> [Archived] Events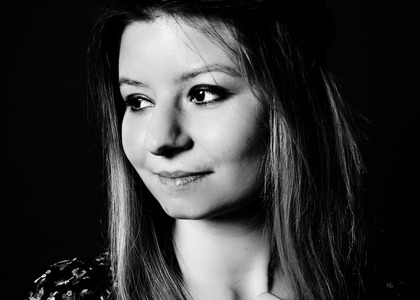 Bach Unseen. Classical music on the dark - Sold out
Monday, 16 December 2019 , ora 10.41

What do you feel when you listen to Bach in the dark?
"You listen to music, you do not see it" is the original idea that led to "Bach Unseen", the only classical music concert in the dark, in Romania. On December 20th, from 19:00, at the Sibiu State Philharmonic, Thalia Hall, visual artist Cristina Bobe and violinist Valentin Serban propose a different way to listen to music in a concert hall, together with other people, only that you do not see them. The music is amplified by the darkness, and there is only one connection left between the violinist and the public, one that is stronger and more personal: the sound. One has the opportunity to completely break away from technology and listen to Bach with the lights off, in a meditative and relaxed atmosphere. The concert held by the Sibiu State Philharmonic opens the "Bach Unseen" concert series in Romania, during which the violinist Valentin erban takes on the integral part of Johann Sebastian Bach's violin sonatas and partitas. It is the first time ever that these works are performed and listened to in the dark, according to the concept proposed by visual artist Cristina Bobe.
Online tickets are sold out, but on the day of the concert, tickets can be purchased for additional seats on stage.
The first recitals in the dark began at the end of 2018, in Artera gallery in Bucharest, under the name "Eyes Wide Shut Concert", and continued through the summer of 2019, in alternative spaces in areas where the public's access to cultural events is limited. This project afforded people like the patients from the Cplna Psychiatric Hospital and not only, the possibility to attend a classical music concert for the very first time. In the village of Peteana, in Haeg, it was the first cultural event that opened the Reformed Church and sparked off the local community's desire to continue with new initiatives. The concert was also held in Minimorum Association's bar, in the village of omartin (Sibiu county), at the "Cultural Mine" and at the "Mother's Museum" in Petrila, in the Unitarian Church of Roia Montan (Alba county) or in the Evangelical Church in Cincor (Braov County).
The new series of "Bach Unseen" concerts still proposes darkness as an alternative way of listening to classical music, this time in concert halls, for a wider audience that is more familiar with symphonic concerts.

Translated by Irina Ștefan, Universitatea București,
Facultatea de Limbi și Literaturi Străine Anul II – MTTLC