> [Archived] Events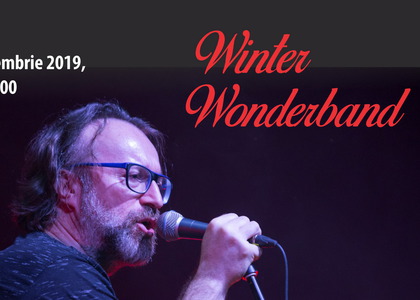 WINTER WONDER BAND: CHRISTMAS NIGHT WITH BERTI BARBERA AND RADIO BIG BAND
Monday, 16 December 2019 , ora 10.47

On Thursday, December 19 (7 p.m.), the Radii Big Band, conducted by IONEL TUDOR, will continue the series of special Christmas concerts offered by theRadio Romania Symphony Orchestra andchoirs on the Radio Hall stage. A special evening of good music, sugestively named by a pun:"WINTER WONDERBAND" will bring in front of the audience a special guest: BERTI BARBERA.
He will present to the public songs like LET THE GOOD TIMES ROLL, THIS CAT IS ON THE HOT TIN ROOF, THE DIRTY BOOGIE, I'M JUST A LUCKY SO AND SO, EARLY IN THE MORNING, as well as i Christmas hits like LET IT SNOW, BOOGIE WOOGIE SANTA CLAUS or PLEASE COME HOME FOR CHRISTMAS
The event will be presented by TEFAN NAFTANAIL, producer of Cultural Romania Radio Station.
Endowed with a flexible vocal range and intuition for rhythm which makes him able to play several percussion instruments, Berti Barbera manages, with plenty of passion, relaxation and humor, to give an original, spectacular and accessible form to any musical piece he approaches. His discography includes titles like: RADIO BIG BAND BLUES - LET THE GOOD TIMES ROLL - 2002, Confident Stories - Live In Timioara - 2005, along with Nicu Patoi, Flick Flack - Live at the Philharmonic - 2006, along with 4Given, BIG BAND BOOGIE 2007 et c.
Berti Berbera is a well-recognised producer and presented of radio and TV programmes and he has also presented a good number of jazz and blues festivals. He was co-presente along with Iulian Vrabete (Holograf) of Taverna, a weekly musical show hosted on TVR1 channel and the host of the White Nights next to the Black Church a live musical show within the Golden Stag Festival. He was also the producer and presenter of "Berti Barbera recommands you", "CD Man Berti Barbera" and "Jazzy Hour" at Radio Romania Musical and of the radio show "Blues Drop" on Rock FM. He signed specialised articles in Stage Pass, Musical Report, Art&Roll, Revista Radio, Sunete, Time Out, Dilema Veche etc.

Translated by Elena Carmen Bobocescu, Universitatea din București,
Facultatea de Limbi și Literaturi Străine MTTLC an I