> [Archived] Events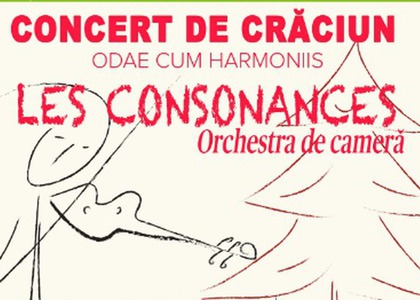 Christmas Concert at the 'George Enescu' hall of the Bucharest National University of Music (UNMB)
Friday, 20 December 2019 , ora 11.30

The Florescu-Fernandez & Friends Camera Season invites you to the Christmas concert "Odae Cum Harmoniis", held by the new generation of young musicians on Thursday, December 19th, 2019, from 7pm, at the "George Enescu" Hall of the Bucharest National University of Music and Saturday, December 21st,from5 pm, in the Mirror Hall of the German Forum in Sibiu. Free entry.
Organist Karina FernŠndez Samodaiev and violinist Rafaela FernŠndez Samodaiev, accompanied by "Les Consonances" Chamber Orchestra, conducted by Mircea Dumitrescu, will introduce the following repertoire to the public:
- Arcangelo Corelli - Concerto grosso in sol minor, "Fatto per la Notte di Natale", Op.6 no.8;
- Anonymous composer from Transilvania - Concertofor Organ (clavecin) and String Orchestra in Do Major;
- Antonio Vivaldi - Concerto for Violin and Organ in D minor, RV 541;
- W.A. Mozart - Violin Concerto No.2 in D major, KV.211;
- P.I. Tchaikovsky-the 'Nutcracker Suite".
Karina FernŠndez Samodaiev and Rafaela FernŠndez Samodaiev were born into a family of musicians and began to sing and play the piano around the age of five, later choosing their favoriteinstruments, respectively the organ and the violin. Currently, they are both studying at the 'George Enescu' National College of Music in Bucharest, under the guidance of organist Brita Falch Leutert and violinist Olivia Papa.
Karina has an intensive musical activity with the youth choir of the Evangelical Cathedral in Sibiu. At the same time, she also indulges in her passion for painting, which she thoroughly studies. Rafaela has won seven first prizes (in the violin section) in competitions and national Olympiads. She is member of the children's choir and orchestra of the Evangelical Cathedral in Sibiu.

Translated by Irina Ștefan, Universitatea București,
Facultatea de Limbi și Literaturi Str"ine, MTTLC, anul II