> [Archived] Events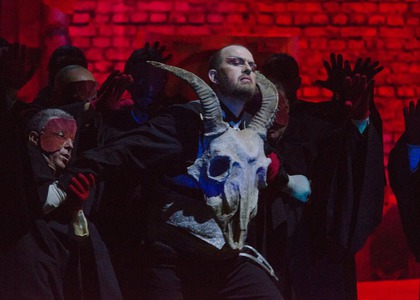 'Faust' – Charles Gounod's grandiose work of art, to be presented at the start of the year on the stage of the Romanian National Opera
Friday, 10 January 2020 , ora 9.44

On Saturday, January 11, 2020, starting at 5 p.m, the Romanian National Opera presents the show 'Faust' by Charles Gounod. The direction carries the mark of Alexandru Tocilescu, the scenography was created by Cătălin Ionescu Arbore, the choreography by Alexandra Mezincescu and the scenic movement by Roxana Colceag. Daniel Jinga is the choirmaster. Tiberiu Soare will be the conductor.
The legend of Faust was brought to life in the Middle Ages and is German in atmosphere and spirit. It tackles the theme of the sinner who makes a deal with the devil to achieve a mundane purpose. From the first well-known piece of writing depicting this subject, the character has been a vulgar madcap. Then, following Martin Luther's Reformation, the legend acquires some anti-Catholic tendencies. The sentimental disposition of the composer Charles Gounod took the subject out of Goethe's masterpiece and painted him in a new light, going further away from the original meaning of the German poem. The composer's characters feel more than they think, they embody feelings, not ideas or aspirations. Faust is a wretched old man, tormented by his desire of finding love. He resorts to the deal with the devil to regain his youth and enjoy again its pleasures. On the other hand, Faust is not even the main character, just the underlying cause of the drama, whose heroine is Margarita. The librettists Jules Barbier and Michel Carre tried to synthesize almost all the poem's scenes referring to Margarita's love. They also added a new character to these scenes, the lyrical Sibel.
Through 'Faust', Charles Gounod manages to establish a new type of opera, practised mainly in France, known as 'Grand opera'. He also introduces an entertainment piece to this opera, a 'Walpurgis Night' ballet piece, which thematically synthesizes a fantastic journey in the world of shadows, illusions and symbols. The choreographic representation only increased the amount of attention this opera received from the public because, besides making it more spectacular, it also eased the access into a hermetic matter, as seen by Goethe.
Tickets can be found at http://tickets.operanb.ro/ and also at the Romanian National Opera ticket office (open Monday - Sunday between 10 a.m. - 1 p.m. and 2 p.m - 7 p.m.).

Translated by Zamfir Lavinia Corina, Universitatea București,
Facultatea de Limbi și Literaturi Străine, MTTLC, anul I