> [Archived] Events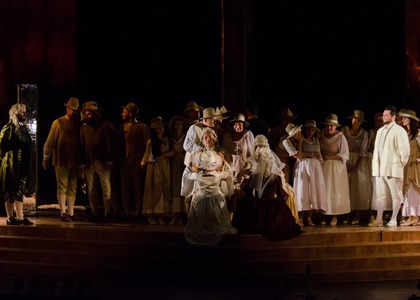 Mihnea Ignat, invited to the conductor's desk in "The Marriage of Figaro", from the scene of the Bucharest National Opera
Tuesday, 14 January 2020 , ora 15.11

The Bucharest National Opera presents on Thursday, January 16th, starting at 18:30 the show "Figaro's Wedding" by Wolfgang Amadeus Mozart. The director is Alexander Rădulescu, the scenography was realized by Adriana Urmuzescu, choir master Daniel Jinga, assistant director Ștefan Neagrău. The conductor MihneaIgnat will be the guest of the first lyrical scene of the country.
"Figaro's Wedding" is Mozart's first work with librettist Lorenzo Da Ponte. The two also worked together on the works "Don Giovanni" and "Così fan tutti".It was Mozart who brought Da Ponte a copy of Beaumarchais's play, which he translated into a libretto in just 6 weeks, translating the text into Italian, putting it into lyrics and excluding all political references. The librettofinally received the approval of Emperor Joseph II, and the premiere took place on May 1st, 1786 at the Wien Burghtheater. Despite the success, only 9 performances were played. They lasted for 4 hours, and enthusiastic audiences often requested encores that doubled this time. It seems that, the Emperor issued a decision regarding the number of encores that could be granted in a representation with "Figaro's wedding". In 1789 the performance was resumed, Mozart and Da Ponte made small musical changes, adapting the score for the performance of Susanna. One of Mozart's great loves is said to have been the singer who performed the part of Susana at the premiere of "Figaro's Wedding," Nancy Storace.
Tickets can be found on http://tickets.operanb.ro/ and at the ticket office of the Bucharest National Opera (schedule Monday - Sunday between 10am - 1pm and 2pm - 7pm).

Translated by Ioana Ghiță, Universitatea București,
Facultatea de Limbi și Literaturi Străine, MTTLC, anul II