> [Archived] Events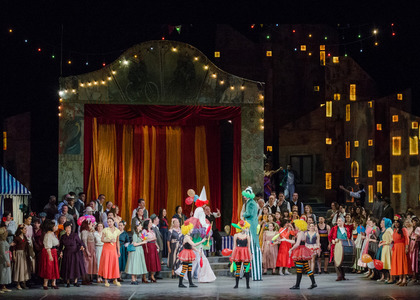 Francesco Anile, invited to perform in "Cavalleria Rusticana & Pagliacci", directed by Ion Caramitru on the Romanian National Opera' stage
Tuesday, 14 January 2020 , ora 15.32

The Romanian National Opera will be the host of the opera show "Cavalleria Rusticana & Pagliacci" by Pietro Mascagni - Ruggiero Leoncavallo, which will be performed on Sunday, January 19th, at 18.30. Ion Caramitru is the opera show's director, the scenography belongs to Viorica Petrovici, and Chris Jaeger is responsible for the concept of the light design. The master Vlad Conta will be the conductor of the show, while the choir members of the Romanian National Opera will be trained by Daniel Jinga.
The director Ion Caramitru develops a new view regarding the opera performance. This is because both parts of the plot concentrate on jealousy and its consequences in the context of a striking realism, as the director himself states: "In the opera show which perfectly mingles with the music (in terms of musical notes, beats, tunes, ballet, choir), we must notice a kind of magical realism which can be emphasized in a great manner. The greater the convention, the greater the freedom. The realism is ever-present: from the beginning to the end. Do not let the artist's illusion deceive you! Cavalleria Rusticana is dominated by black and white, while Pagliacci's setting is full of colours; the spectator might be overwhelmed by costumes, stage, realistic setting. However, both scenes conceal a felony caused by jealousy.
"Cavalleria Rusticana" is performed worldwide because is one of the most appreciated veristic works of art. The great success of this opera show (which is the best creation of Pietro Mascagni) is due to the inspiration of the composer who matches the performance with the script, music line, the scenes' expressiveness and the ardour of the song which is typical to Italians.
"Pagliacci" is an opera show divided in two acts, developed by Ruggiero Leoncavallo's own libretto.
This opera performance is one of the works of art which are always put on stage in opera houses from all around the world.
The two opera shows illustrate the modest working class in the south of Italy. In fact,they are presented on a Roman Catholic celebration day. The plot is concentrated on love triangles which end up in violence and death. The vivid, sincere, rapid and concrete music language of this troubling stories placed in the world of ordinary people gave birth to the opera's veristic style.
Tickets are available on http://tickets.operanb.ro/ , as well as to the Romania National Opera's tickets office. (Schedule: Monday-Sunday, between 10AM - 1PM, as well as between 2PM-7PM).

Translated by Anița Lambru, Universitatea București,
Facultatea de Limbi și Literaturi Străine, MTTLC, anul I