> [Archived] Events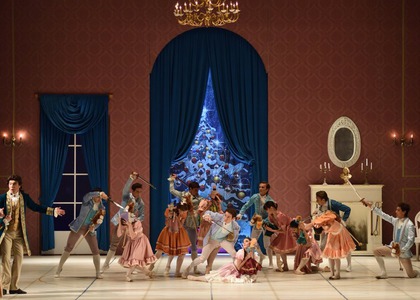 "The Nutcraker", the most beautiful ballet tale for children, on the stage of the Bucharest National Opera House
Tuesday, 14 January 2020 , ora 15.37

The Bucharest National Opera House presents on Wednesday, January 15th, 2020, starting at 6:30 PM, "The Nutcracker" ballet performance, by Piotr IliciCeaikovski, choreography by Oleg Danovski, the directorial and choreographical adaptation signed by Oleg Danovski Jr., scenography created by Andreea Koch. Maestro IurieFlorea will be at the conductor's lectern.
Choreographer Oleg Danovski Jr., on "The Nutcracker" performance on the stage of Bucharest National Opera House: "'The Nutcracker' presents a story between reality and Clara's Christmas Dream, a ballet filled with magic, colour, fascination, dynamism, and, furthermore, the ballet performance most looked forward to around Winter holidays. I am particularly glad that in a centenary year I have succeeded to collaborate with the Bucharest National Opera House, offering from the depths of my soulthis marvellous performance which, unfortunately, had been missing from the repertoire for several years.
Here I have discovered talented, professional and dedicated ballet dancers and maestros, as it is necessary to have on the first stage in the country. Time was short, but together in only two months we have managed to create a performance that the audience certainly awaits wih eagerness and enthusiasm.
I kindly invite the public of the Bucharest National Opera House to discover the realms of magic, to live the tale with the characters and to witness this enchanting ballet, originally set by Oleg Danovski. "
Tchaikovsky started to work on his creation "The Nutcracker" in January 1892, and in March the work was completed, proving an unrealistic inspirational force that created a masterpiece, in which music and dance intertwine in one faultless perfection.
The famous "Nutcracker" ballet has won the audience of all ages right from the world premiere on the stage of the Mariinski Imperial Theater, St. Petersburg, which took place on December 6, 1892. Piotr Ilici Tchaikovsky thus became the composer who delighted children's hearts everywhere during holidays, offering them the most beautiful present: a fairy tale with a lyrical tradition that continues to announce the winter holidays up to this day, with exaltation and charming scores.
Due to its success, the famous ballet has been successfully transposed over the years into artistic films, cartoons or ice ballet, the score of the Russian composer based on the eponymous fairy tale signed by Alexandre Dumas. The winter story brings us to the fairy-tale atmosphere where dance, emotion and symphony come together in a dream waltz.
Tickets can be found at http://tickets.operanb.ro/ and at the ticket office of the Bucharest National Opera House (schedule Monday - Sunday between 10AM - 1PM and 2PM - 7PM).

Translated by Ioana Drangoi, Universitatea București,
Facultatea de Limbi și Literaturi Străine, MTTLC, anul I