> [Archived] Events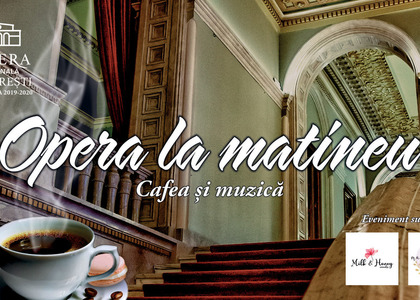 Matinal Opera. Coffee and Music Recital in the foyer of the Bucharest National Opera House
Wednesday, 15 January 2020 , ora 15.37

The Bucharest National Opera House presents Matinal Opera. Coffee and Music on Saturday, the 18th of January, starting at 11 AM.
The Recital in the Yellow Foyer of the Bucharest National Opera House brings closer to the public the soloists of the leading lyric stage of the country, accompanied by Ioana Maxim on piano. The programme will include the famous opera arias from the current Bucharest National Opera House repertoire, and also, significant compositions which are rarely found in the lyric theatres' programme.
The concept of coffee and music started according to the idea that opera and coffee are based on legends. Don Giovanni is quite an example in this regard. It's an opera composed by the genius Wolfgang Amadeus Mozart, based on the legend of Don Juan. This opera and the beginnings of coffee usage are both wrapped in mystery. It is believed the Sheikh Omar from Mocha, Yemen, who'd been exiled and forced to live in a cave, tried to eat the fruits of the shrubs from the nearby forest but found out that they were bitter. To make them taste better, he fried and boiled them, thus, creating a flavored and revitalizing beverage, which had kept him alive. Soon, the story of the "wonder medicine" reached Mocha, and Omar was brought back amidst his people, and also, he was made a saint.
Among the members of the cast, there are such soloists like Mădălina Barbu, Veronica Anușca, Zsuzsana Cerveni, Adrian Dumitru, Stanca Maria Manoleanu, Cristina Maria Oltean, Marta Sandu Ofrim, Madeleine Pascu, and Daniel Pascariu.
The tickets can be found here: http://tickets.operanb.ro/ and at the Box Office of the Bucharest National Opera House (Opened Monday-Sunday, between 10 AM - 1 PM and 2 PM - 7 PM)

Translated by Cotar Alexandr, Universitatea București,
Facultatea de Limbi și Literaturi Străine, MTTLC, anul I