> [Archived] Events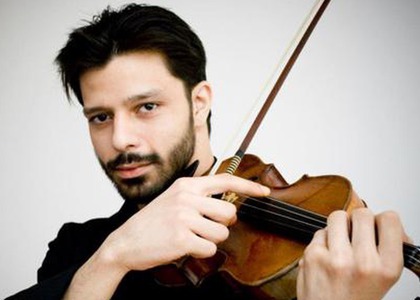 Răzvan Stoica and his Stradivarius violin, again on the stage of the Philharmonic in Ploiești
Monday, 20 January 2020 , ora 10.38

National Culture Day is celebrated at the "Paul Constantinescu" Philharmonic by an extraordinary concert. The guest of the symphony orchestra is the violinist Răzvan Stoica, who came to Ploiești as a soloist and conductor. The program includes Concert for String Orchestra by Paul Constantinescu, Prelude to Unison in Suite No.1 for Orchestra, Op.9 by George Enescu and Concert No.1, Op.6, for Violin and Orchestra by Niccolo Paganini. The event takes place on Thursday, January 16, 2020, from 7 pm, on the stage of "Ion Baciu" Hall of the Philharmonics.
Violinist Răzvan Stoica studied at the George Enescu Music High School in Bucharest with Professor Olivia Papa, and had private lessons with the masters Ștefan Gheorghiu and Modest Iftinchi. After graduation, Răzvan continued his studies at the Royal Conservatory in Amsterdam (Holland), in the class of teacher Ilya Grubert, but he also attended master classes with violinists Leonidas Kavakos, Krzysztof Wegrzyn, Vadim Repin, Itzhak Perlman, Ivry Gitlis and Pinchas .
Răzvan Stoica has won over 24 national and international awards at prestigious competitions, including, among others, the Perosi Competition (Tortona), the Olympic violin competitions in Romania and the Competition for duets from Bolzano (Italy). In 2009 he won the first prize in the "Strad Prize" in Salzburg, Austria. As the winner of this prestigious competition, Răzvan Stoica was offered an Antonius Stradivarius violin, manufactured in 1729.
He has performed, both as a guest soloist and in recitals within the "Stoica Duo", at the Concertgebouw in Amsterdam, the Champs Élysées Theater in Paris, the San Barnaba Theater in Brescia, the Carlo Felice Theater in Genoa, at the Palacio de Festivales in Santander , Gewandhaus in Leipzig, Musikverein in Vienna and many other major concert scenes around the world.
Chamber music plays an important role in the professional life of Răzvan Stoica. In 1996 he formed with his sister, pianist Andreea Stoica, "Duo Stoica". Răzvan Stoica's discography so far includes prints with "The 24 Caprices" by Niccolo Paganini, "Spanish Symphony" for violin and orchestra by Edouard Lalo (with the Orchestra of the Beethoven Academy in Krakow), the album "Capriccioso", released on the market at the house of Dutch albums Aliud in 2012, as well as an album made in the formula "Duo Stoica".
Tickets can be found at the Philharmonic Ticket Office, at the Theater Agency, at the stand displayed in AFI Ploiești and online, on www.filarmonicaploiesti.ro.

Translated by Oprea Ana Maria Adriana, Universitatea București,
Facultatea de Limbi și Literaturi Străine, MTTLC, anul I