> [Archived] Events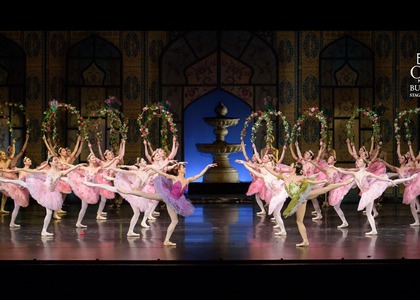 "The Corsair"a love story transposed in ballet on the stage of the Bucharest National Opera
Wednesday, 22 January 2020 , ora 14.52

The Bucharest National Opera presents on Sunday, January 26th2020, starting at 6:30 pm the three-act ballet show "The Corsair" by Adolphe Charles Adam, directed and choreographed by Vasily Medvedev.Master CiprianTeodorascu will be at the conductor's rostrum.
The first version of Adolphe Charles Adam's ballet, "The Corsair", was premiered on January 23rd 1856, on the Imperial Theater stage of the Paris Opera. In Romania, the "Corsair" ballet was first danced at the Romanian National Opera in Timisoara, in the 1986-1987season, in the choreography of Stefan Gheorghe. At the Bucharest National Opera, the premiere of the current montage took place ten years ago, on April 28, 2007.
In a romantic spirit, the ballet is a love story between a pirate and a slave, and the action takes place in Adrianopole, at the beginning of the 19th century. For a decade,the ballet, extremely demanding from a technical and interpretive point of view, had in distribution, big names of the national scene such as Corina Dumirescu, Cristina Opincaru, Ovidiu MateiIancu and Gabriela Popovici.
Russian choreographer Vasily Medvedev on the current setting of the Bucharest National Opera scene: "Over the last few years, in the ballet world, the interest in classical dance has clearly increased. The festive atmosphere and the beauty of this style are always present in the show. The audience is delighted by the purity and fragility of the classical ballet as well as the amazing performances and skills of the ballet dancers trained in recent years. The choreographic language is easy to understand by the public. "The Corsair" which has been dancing for 150 years has remained a favourite of spectators in love with classical ballet. " As a matter of fact, the halls are full even after more than a decade after the premiere.
Tickets can be found at http://tickets.operanb.ro/ and at the ticket office of the Bucharest National Opera (schedule Monday - Sunday between 10am - 1pm and 2pm - 7pm).

Translated by Ioana Ghiță, Universitatea București,
Facultatea de Limbi și Literaturi Străine, MTTLC, anul II