> [Archived] Events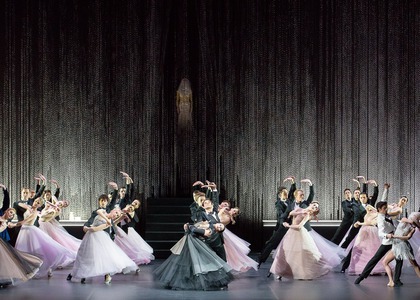 The most beautiful love story: `Romeo and Juliet` the ballet show on the stage of The National Opera House Bucharest
Wednesday, 22 January 2020 , ora 15.10

The public is expected to take part of this ballet show on Wednesday, 22th of January 2020, starting at 6:30 pm, for the event: "Romeo and Juliet" by Sergei Prokofiev
The Bucharest National Opera House presents on Wednesday,the 22th of January 2020, starting from 6:30 pm the ballet show "Romeo and Julieta" by Sergei Prokofiev. The director and choreography are signed by Renato Zanella, the decorations were created by Alessandro Camera (Italy), the costumes by Carla Ricotti (Italy), and the light design by Vinicio Cheli (Italy). Master Tiberiu Soare will be the conductor.
For this show, the choreographer and director Renato Zanella came up with a modern conception, placing the famous love story in an avant-garde artistic context, as he himself testified:
"Romeo and Juliet is the immortal story of a love that takes place in one of the most difficult periods in history, in the Middle Ages. Power, war and religion seem to conspire against purity, simplicity of life and freedom: who will win?
I kept on thinking how this story can be told today, but not only from the point of view of the choreography. Is this intrigue still there today? How can we explain such love to today's generations?
I imagined how in today's Verona, a city that retains the architecture and brilliance of those times, everything still happens between the walls of the fortress. Shakespeare saw in these walls the border between Heaven and Hell, the beauty and spirit of the city inspired the writer to a greater extent. But even though today's city markets no longer have animal fairs and strong families are no longer fighting with the sword on the streets, the new society has remained divided and competitive, closely resembling the situation of the times described by the famous playwright.
Today's competition refers to ones looks, at the sports one practices, the luxury of one's life, all of which can ultimately be translated into all the powers and control. At this time, there must be a current context of care to preserve the story imagined by Shakespeare in 1597, while retaining the key element of the scenario: innocence and simplicity. It is clear that there is a more important story, Romeo and Juliet, and that encourages the closure of strong personal rights, of chosen education, intelligent, placing the envy or fear of competition to speak in front of the unknown.
Looking at someone in the eye and falling in love is what everyone wants. Anyone who wants the power of love from this moment of sublime innocence to bring peace and unite people.So my question and my challenge that I now address to the public is whether or not this really is the true message Shakespeare wanted to express through this story? "
You can find tickets on: http://tickets.operanb.ro/ and the ticket office of The Bucharest National Opera House (schedule Monday - Sunday between 10am - 1pm and 2pm - 7pm).

Translated by Gabriela Florea, Universitatea București,
Facultatea de Limbi și Literaturi Străine, MTTLC, anul II