> [Archived] Events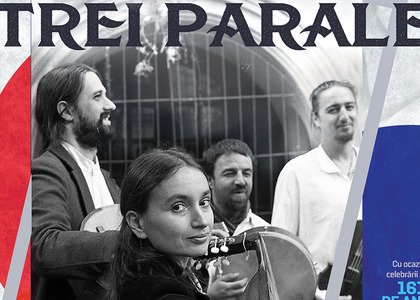 On the Unificationday of the Romanian Principalities, the Three Coins group brings a unique selection of traditional songs on the Teatrelli stage
Thursday, 23 January 2020 , ora 10.58

Specific music from Muntenia, Oltenia and Moldova will be played at Teatrelli on January 24th, at 7 PM, in a concert by the Three Coins group, which aims to illustrate one of the effects of the personal union of Moldavia and Wallachia. The songs are the result of a true anthropological survey that the Three Coins have undertaken in an attempt to recover the traditional music.
161 years since the Unification of the Romanian Principalities are celebrated at Teatrelli with a concert of the group Three Coins, scheduled for January 24th, from 7 PM. The concert aims to illustrate one of the effects of the personal union of Moldavia and Wallachia: the freedom to move musically from one Romanian landscape to another, under the same cultural identity. A special repertoire will be presented, with traditional songs collected from the area of ​​Muntenia, Oltenia and Moldova - a selection from several projects of the group.
The audience will listen to unique interpretations, "some as scrupulous as possible, others as free as possible" on old instruments, almost extinct in the traditional environment and extremely little valued in the contemporary urban world: various whistles and various percussion instruments. Thus, Florin Iordan will play the bass and whistles, Daniel-Mircea Pop will provide the vocal part, but will also play the whistles and percussion, Mihai Balabaș the violin and Beatrice Iordan the bass.
The Three Coins group is known for the fact that in composing the repertoire and outlining the interpretive style, it is based on different research modalities: expeditions through villages, collaborations with old musicians, listening to old field recordings, made by Constantin Brăiloiu or Béla Bartók, documenting from various volumes of musical folklore or the study of 19th century transcripts (A. Pann, G. Ucenescu, D. Vulpian, etc.).
In addition to participating in important festivals, the group's music is present on the soundtrack of films like Aferim! (2015) and Kyra Kyralina (2014).
Admission to the event is free, based on an online reservation on bilete.ro and at the Teatrelli ticket office (Lahovari Square, No.7). The reservation loses its validity 20 minutes before the starting time of the event, and from that moment forwardaccess will be made in the order of arrival, within the limit of available places.

Translated by Ioana Drangoi, Universitatea București,
Facultatea de Limbi și Literaturi Străine, MTTLC, anul I