> [Archived] Events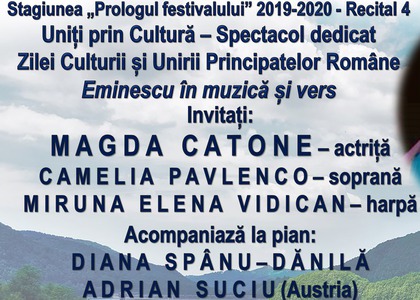 Magda Catone and the season `Prologue of the festival`
Thursday, 23 January 2020 , ora 15.54

Between 26th June 26 - 3rd July 2020, the Junior Art Festival will take place at Câmpina, an event that includes masterclasses for the young interprets and daily recitals, and between 21st - 31st August 2020 the Academica Art Festival will take place for the first time in Romania - an opera and operetta production carried out by young artists within will be mounted the opera "Bastien and Bastienne" by WA Mozart, in the accompaniment of mistress SILVIA VOINEA, conductor- master CRISTIAN BR NCUȘI; and the operetta "One night in Venice" by Johann Strauss under the musical direction of master ADRIAN SUCIU (Salzburg, Austria), director- master MIHAI BISERICANU. We prepare these events through the season of monthly recitals `Prologue of The Festival 2019-2020`, events aimed at discovering young talents and attracting support from the local authorities and the organisations that sustain cultural actions. Preparing the events or conducting the monthly recital prologue "The Prologue of the 2019-2020 festival", events aimed at discovering young talents and being able to ensure the involvement of local authorities and to be an organization that takes care of cultural activities.
In 2020, the season of recitals "Prologue of the Festival of Arts" from Campina opens its doors on Saturday, 25th of January, with an exceptional recital on a harmonious mixture of Romanian feelings, a spiritual connection to the highest vibration of the Romanian word, Eminescu`s verses, offered by the partner and the main sponsor of the event - SPANDUGINO FOUNDATION.
We invite you to enjoy together -for the first time in this setting- the exceptional presence of the actress MAGDA CATONE, who honours us, as well as the beloved and so expressive musicians, both performers and pedagogues, the soprano and pianist CAMELIA PAVLENCO, and the harpist MIRUNA-ELENA VIDICAN.
As usual, the dialogue with the masters will be in the care of the undergraduates studying music at Campina, and representatives of the two Music Colleges in Bucharest, George Enescu and Dinu Lipatti, accompanied by Prof. Dr. DIANA SPÂNU-DĂNILĂ and by Prof. ADRIAN SUCIU (Salzburg, Austria).
We are waiting for you a special evening, in which the Romanian soul will be festively presented on the stage "Geo Bogza" of the Culture House in Campina, on Saturday, 25th of January 2020, at 17:00.
Tickets are available on the website www.bilete.ro, at https://www.bilete.ro/prologul-festivalului.

Translated by Ecaterina Bușe, Universitatea București,
Facultatea de Limbi și Literaturi Străine Anul I - MTTLC