> [Archived] Events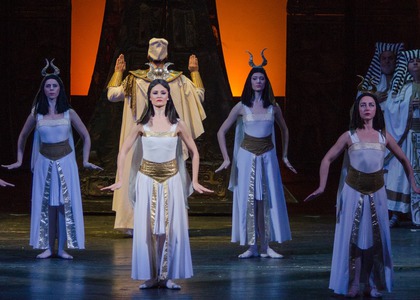 Jacopo Siperi, special guest at the conductor desk, for Verdi's "Aida", on the stage of the National Opera of Bucharest
Thursday, 23 January 2020 , ora 15.58

The audience is expected at the National Opera of Bucharest, on Saturday, January 25th, 2020, at 6:30 PM
On Saturday, January 25th, 2020, starting at 6:30 PM, the National Opera of Bucharest will perform the show "Aida" by Giuseppe Verdi, directed by Plamen Kartalov, set design made by Viorica Petrovici and choreography by Francisc Valkay. Master Jacopo Siperi will conduct the performance, as guest of the country's first lyrical scene.
The show "Aida" by Giuseppe Verdi, staged by the Bulgarian director Plamen Kartalov, presents an exotic love story in a spectacular way, worthy of the great traditional opera shows. Plamen Kartalov and the scenographer Viorica Petrovici, in collaboration with Francisc Valkay, the choreographer of the show, have succeeded in recreating onstage, frames of historical inspiration, in reproducing the grand aspect of the monuments of Ancient Egypt, the era when the action of Giuseppe Verdi's opera takes place.
The show doesn't only set out to present the audience with historically meaningful scenes, but also to depict a tragic love story, where the main theme is love, under all its forms, from that between a man and a woman to the love for one's country and the respect and love towards one's parents. The secondary themes are sacrifice for love, respect towards law and the state, the humiliating condition of the defeated and the arrogance of the victorious, the envy and jealousy as the prime motive for the actions of the negative character, the Egyptian princess Amneris.
The stage production of the National Opera of Bucharest thoroughly serves, through directing, schenography and choreography, the romantic style of opera, with the heroes facing dramatic situations, with a wealth of colour and light effects. It uses the theatricality of this style and that may be the reason why it's still authentic and plausibile, after more than 20 years from the premiere.
Tickets available on http://tickets.operanb.ro/ and at the ticket office of the National Opera of Bucharest (Schedule: Monday-Sunday, 10 AM-1 PM and 2 PM-7 PM)

Translated by Manea Eleonora, Universitatea București,
Facultatea de Limbi și Literaturi Străine Anul I – MTTLC