> [Archived] Events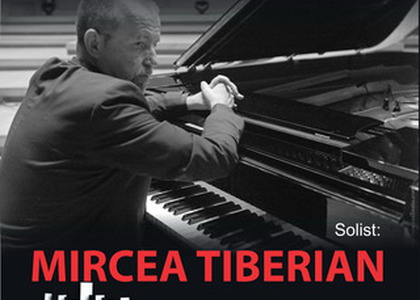 An evening with the Radio Big Band and Mircea Tiberian!
Monday, 27 January 2020 , ora 10.26

Each month, the Radio Big Band, conducted by the well-known composer, Ionel Tudor, invites the audience to an evening of quality jazz or pop at the Radio Hall!
The first jazz concert of the new year is taking place on Thursday, January 30 (7 p.m.) and the special guest of the event is the pianist Mircea Tiberian. His musical activity materialized in thousands of concerts and over twenty albums made under his own name: the most recent one was released in 2019, under the title Dancing around the Dragon Tree. The Union of Romanian Composers and Musicologists presented him with the award for jazz composition six times, the last time being for the musical "Jazzy Tarot" in 2015.
Among the songs signed by Mircea Tiberian that you can listen to at the Radio Hall we can mention Italian Winter, So Simple, Lydian Blues, Johannesburg, Dark Side of a Morning.
Stefan Naftanailă, from the Romanian Cultural Radio, will be the host of the event.
Being a much-appreciated name of the Romanian music industry, Mircea Tiberian has founded the jazz department from the University of Music in Bucharest in 1991. He is also the coordinator of this department and thus, he also dedicates himself to discovering and forming new talents, apart from his activity as a jazz musician.
His debut took place at the International Jazz Festival in Sibiu (1974) and, throughout the years, he collaborated with known musicians, both national and international, such as Larry Coryell, Tomasz Stanko, Herb Robertson, John Betsch, Ed Shuller, Nicholas Simion, Maurice de Martin, Johnny Răducanu, Aura Urziceanu, Anca Parghel and many others.
Among his recent albums there are The Life of the World (Viața Lumii - Jazz and More, 2003), Lights (Lumini - La Strada, 2003), Palindrome (Jazz and More, 2004), Shining of the Abyss (Jazz and More, 2004), Notes on Music and Music Notes - double CD (The National Museum of Romanian Literature Publishing Company, 2005), Dark (The National Museum of Romanian Literature Publishing Company, 2006), November (Openart Records, 2008) and Ulysses (Openart Records, 2008).
Mircea Tiberian is also the creator of spectacles which include, besides music, poetry, theatre or film. His most recent published books - "The Sound of Reference" ("Sunetul de referință), "The musical field, a world with 4 dimensions" ("Domeniul musical, o lume cu 4 dimensiuni") or "Magister musicae in the land of the smile" ("Magister musicae in țara surîsului") - have all been warmly received and acclaimed, both in the literary world and amongst the researchers of the musical phenomena.

Translated by Iuliana Popa, Universitatea București,
Facultatea de Limbi și Literaturi Străine Anul I - MTTLC