> [Archived] Events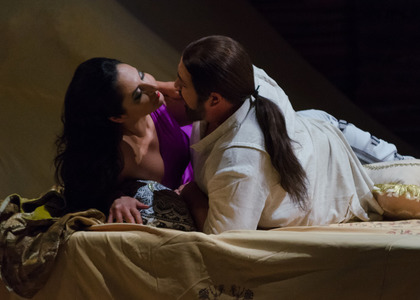 Ljubica Vranes, invited to perform in the show "Samson and Dalila" on the stage of the Bucharest National Opera
Tuesday, 28 January 2020 , ora 14.32

The Bucharest National Opera presents the show "Samson and Dalila" by Camille Saint-SaŽns on Wednesday, January 29, 2020 at 6:30 pm. The staging bears the signature of Giandomenico Vaccari, the choreography was done by Davide Bombana, and the setting and costumes by Andreea Koch. At the conductor's stand will be the master Vlad Conta.
For this performance, the audience will be able to follow the mezzo-soprano Ljubica Vranes playing the role of Dalila, as a guest of the Bucharest National Opera.
On December 2, 1877 the premiere of the opera "Samson and Dalila" was held in Weimar, with a booklet translated into German. Over time, the opera "Samson and Dalila" was an opportunity to assert many stars in the world of lyric theater. In particular, the role of Dalila is considered one of the most complex mezzo-soprano roles and has been performed by great artists such as: Marie Delna, Grace Bumbry, Julia Claussen, Fiorenza Cossotto, Rita Gorr, Denyce Graves, Louise Homer, Marilyn Horne, Elena Obraztsova and RisŽ Stevens.
Although none of Saint-SaŽns's other genre creations has suffered so much torment in the early years, it is equally true that none of these works has achieved such lasting success over the years. such as "Samson and Dalila".
As early as 1861, Camille Saint-SaŽns had surprised Wagner with his gifts; In a 1867 letter, Berlioz describes him as "an amazing master pianist ... and one of the greatest musicians of our time." His admiration for older musicians is shared by his colleagues of the generation - especially Bizet -, who see in him the head of the French music school. Debussy, who did not like it, said: "Saint-SaŽns is the man who knows the best the music of the entire world."
As a composer, he addressed all fields, all genres, both religious and profane, drawing inspiration from all styles, easily working with the most varied vocal formations and instruments.
If he ended up becoming the embodiment of an academic tradition, an illustrious old man who was made monuments even before he died, tired, perhaps, of so many honors that overwhelmed him, let us not forget all that music owes him. French and in particular the return to its noblest and purest springs, to what it offers incomparably in the field of musical drawing, then a penetrating look and an ardor of proselite towards Bach and Rameau, in an age when they were almost forgotten, if not quite despised, and at the opposite pole, the fiery defense of what might have been believed to be far from his impassive art: the shadow's demiurgees, those cursed musicians he had exalted in his generous youth. , more specifically Liszt, Berlioz, Schumann, Wagner.
Tickets can be found on http://tickets.operanb.ro/ and at the ticket office of the Bucharest National Opera (schedule Monday - Sunday between 10am - 1pm and 2pm - 7pm).

Translated by Oprea Ana Maria Adriana, Universitatea București,
Facultatea de Limbi și Literaturi Str"ine, MTTLC, anul I