> [Archived] Events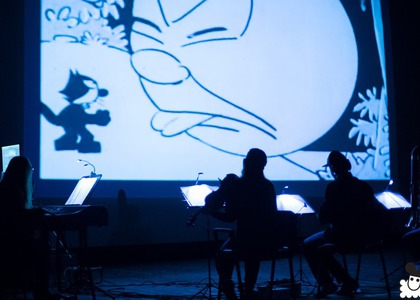 Classic is Fantastic. How to understand music and cartoons
Thursday, 30 January 2020 , ora 12.33

The concert of February 2020 invites us on a journey to the cartoon universe, more precisely in ... the department where the sound effects are created.
FELIX THE CAT in concert (d. Pat Sullivan, Otto Messmer) brings together 8 episodes with the adventures of the famous cat, accompanied by original music composed by Simona Strungaru, and it will be held within `Classic is Fantastic`by Simona Strungaru Symphonics, which is supported by The International Festival of Cartoons Anim`est.
In this concert, the music goes beyond the borders of the classical universe - there are exploited the technical possibilities of the traditional instruments and also a multitude of creative technological insertions.
Thus two worlds overlap: the pre-production through the use of virtual sonorities but also with the help of soprano Irina Ionescu, of cellist Radu Sinaci and Maya Sophie Burneci`s acting contribution; and the second, the acoustic world, created live by Simona Strungaru. (piano), Natalia Pancec (violin), Bogdan Gugu (clarinet), Iulian Nitică (counter bass), Sebastian Burneci (trumpet).
On Saturday, the 15th of February, 2020, 11:00 AM, at The Romanian Athenaeum
`Classic is Fantastic`. How to understand music and cartoons.
Felix the Cat in concert
Simona Strungaru Symphonics performs original music by Simona Strungaru
Simona Strungaru - piano
Natalia Pancec - violin
Bogdan Gugu - clarinet
Iulian Nitică - contrabassoon
Sebastian Burneci - trumpet
Comments by Cristina Sârbu
A cinematic and musical spectacle created in collaboration with the Bucharest International Animation Film Festival `Anim'est`
The tickets will be available at the Romanian Athenaeum`s ticket office starting with Wednesday, 5th February 2020, at 12:00 PM. Reservations for school groups will be received until Saturday, 1st February, 12:00 PM at info @ fge.org.ro

Translated by Ecaterina Bușe, Universitatea București,
Facultatea de Limbi și Literaturi Străine, MTTLC, anul I