> [Archived] Events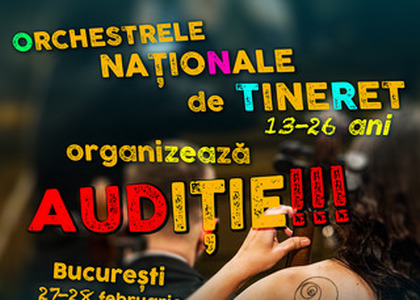 National youth orchestras to hold auditions!!!
Thursday, 30 January 2020 , ora 12.51

The National Youth Orchestras of Romania are holding auditions for the admission of the most talented young musicians, on February 27thand 28thin Bucharest, on February 29thin Cluj Napoca and on March 7thin Iași.
For many years, the National Youth Orchestras of Romania have represented the most important training and professional development path for young musicians who want to become professional instrumentalists in a symphony orchestra.
This year, the program benefits from the direct contribution of today's most important Romanian conductors: Cristian Mandeal, Horia Andreescu, Cristian Măcelaru -who recently became the principal conductor of the Orchestre Nationale de France - Gabriel Bebeșelea, and the phenomenal Russian violinist-conductor Alexander Sitkovetsky. This year's concerts are scheduled to be held on important stages in Romania, Bulgaria, Italy, Germany, Republic of Moldova and others.
In its 11 years of existence, this program, which is dedicated to young musicians, has trained the current occupants of the most important positions of the great orchestras in Romania, such as the Philharmonic in Bucharest, Cluj, Iasi or Timișoara, the National Radio Orchestra or the National Opera orchestras in Bucharest and Cluj, plus many other symphonic groups in the country and abroad. The program includes the Junior Orchestra for ages between 13-16, the notorious Romanian Youth Orchestra 18-26 years old and the Romanian National Symphonic Orchestra for the most valuable graduates and members of the entire program, irrespective of their age.
The secret of the immense success that the Romanian Youth Orchestra, the National Symphony Orchestra of Romania and the Romanian Simfonietta have already recorded on the most important performance stages in Romania, in Europe and the United States, as well as in Beijing, Istanbul, Chișinău, Belgrade, Ruse, Sofia or Skopje starts with the rigorous selection process in which appreciated and encouragednotonly the instrumental and musical skills, but also the human qualities of the young candidates, because this project aims to train not only professionals, but also characters compatible with the art of performing Great Music.
The places where the auditions will be held are: for Bucharest - the National Art Center "Tinerimea Română" str. Gutenberg, no. 19, for Cluj Napoca:the "Gheorghe Dima" Music Academy -the Concert studio and for Iași: the National College of Art "Octav Băncilă", room 38.
All information regarding the required instruments and the audition repertoire, together with the respective material could be reach at www.tinerimearomana.ro the"AUDITION" section.

Translated by Irina Ștefan, Universitatea București,
Facultatea de Limbi și Literaturi Străine, MTTLC, anul II