> [Archived] Events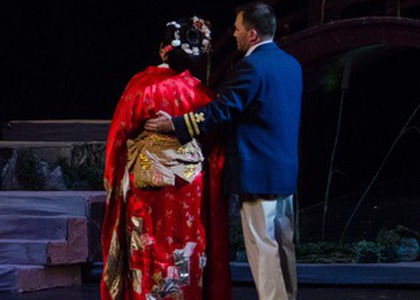 Young Ju Kim, invited to be part of " Madame Butterfly" at the Romanian National Opera House
Thursday, 30 January 2020 , ora 15.25

On Sunday, February 2nd, the Bucharest National Opera House presents Giacomo Puccini's "Madame Butterfly", directed by Jean Rânzescu. Theodor Kiriakoff Suruceanu is in charge with the sets while the costumes are signed by Elena Feodorov. The invited conductor will be maestro David Miller.
Puccini considered "Madame Butterfly" to be his most "technical" opera, probably because of the excessive concern to modify his compositional styleaccording to the exotic plot. The opera's world premiere, in Milan, in February of 1904, did not have the expected effect on the public. Puccini revised the score, and four months later the work was presented again, successfully this time. "It is the finest opera I have ever written," said the composer. The Paris version of 1906, with all subsequent revisions, is the one that the public can enjoy today.
In Romania, "Madame Butterfly" was presented on the Bucharest stage shortly after its world premiere, which proves once again that the Romanian lyrical environmentwas up to date with all the new compositions of the time. For decades, "Madame Butterfly" was present in the Bucharest National Opera House'srepertoire, with valuable distributions in which all the great names of Romania's lyrical artists excelled.
It is one of the best known operas in the world; the story presents the consequences of endless devotion. The love between Cio-Cio-san and Pinkerton, an officer in the US Navy, has a tragic outcome when the man returns home with another woman. As she cannot bear the pain and dishonour, Cio-Cio-San commits suicide using her father's sword, as it was tradition.
Tickets can be purchased online at http://tickets.operanb.roand from the Bucharest National Opera House's ticket office (from Monday - Sunday between 10am - 1pm and 2pm - 7pm)

Translated by Irina Ștefan, Universitatea București,
Facultatea de Limbi și Literaturi Străine, MTTLC, anul II