> [Archived] Events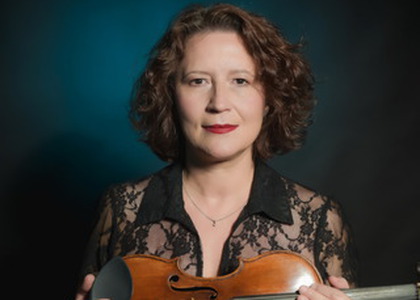 An unique Venetian 'musical story' at the Radio Hall!
Friday, 7 February 2020 , ora 9.51

On Wednesday, on 12th of February at 7pm, the Radio Chamber Orchestra and one of the Romanian musicians who enjoys appreciation both at home and abroad - violinist LUMINITZA PETRE -will be present at the Radio Hall ... with an unique show in the world music!
In double hypostasis - conductor and soloist - Luminitza Petre will play the violin Matteo Gofriller performed in Venice, in 1690, the Concert for violin and orchestra signed by Maddalena Laura Lombardini Sirmen (1745-1818). Born in the same famous Italian city, composer and violinist, this is one of the personalities who have marked the history of music with an extremely interesting life story, drawn from an artistic film.
Maddalena Laura Lombardini Sirmen was born from parents of noble origin, but who had lost their fortune. She beghan her musical studies at the age of 7, at the orphanage where she lived in Venice. She later received private lessons from Giuseppe Tartini, one of the greatest violinists of the time, who also paid for her lessons at the orphanage. She married another beloved violinist of the time - Ludovico Sirmen - who supported her in her artistic career, even composed a few works and began a tour in Europe.
In the concert at the Radio Hall you will also hear Schubert: Rondo in La major for violin and string orchestra and Mozart: Symphony no. 40.
Ever since she was a student, LUMINITZA PETRE has performed a rich solo activity with all the Romanian Philharmonic Orchestras and with the National Radio Orchestra. His career consolidation continued with appearances on stage in Stuttgart, Mannheim, Bayreuth, Heidelberg, Nuremberg, Hamburg, Berlin, Milan, Strasbourg, Madrid, Bilbao, Zaragoza, Vienna, Budapest, Tokyo and so on.
She was invited to prestigious festivals such as "La Folle journée" - Nantes, the Aix en Provence Festival, Edinburgh Festival, Bayreuther Festspiele and the "George Enescu" International Festival.
Luminitza Petre made prints for "Signum" and "Bietigheimer Kammersinfonie" - Germany, "Electrecord" - Romania and for Fonoteca Radio România. Integral Sonatas and Violin Solo Parties by J.S.Bach, performed at "Bavaria Studio" Munich, was nominated for an "Academy Award" in Tokyo.
In 2007, on the occasion of Romania's entry into the European Union, "Camerata Enescu" and "George Enescu Stuttgart Festival" were established in Stuttgart, under the aegis of the German-Romanian Forum and the Romanian Consulate in Munich.
Prolonged practice as a concert-master at the Stuttgart State Orchestra and at the Bach International Academy or the Heilbronn Chamber Orchestra have benefited from the start of his conducting career. He has conducted symphonic repertoire with the Philharmonic in Nuremberg, Moscow, Oradea, Timișoara, Sibiu, Ploiesti and the Radio Chamber Orchestra.
The concerts can be listened to live on all frequencies of Radio Romania Cultural and Radio Romania Musical in the country and in live streaming on the Internet, on pe www.radioromaniacultural.ro and www.romania-muzical.ro. Tickets for the Radio Orchestra and Chorus concerts are available on www.bilete.ro, in the Romanian Post offices, in the Inmedio stores signaled by bilete.ro and at the Radio Hall ticket office. For other information about Radio Orchestras and Choruses, please visit www.orchestreradio.ro.

Translated by Gabriela Florea, Universitatea București,
Facultatea de Limbi și Literaturi Străine, MTTLC, anul II