> [Archived] Events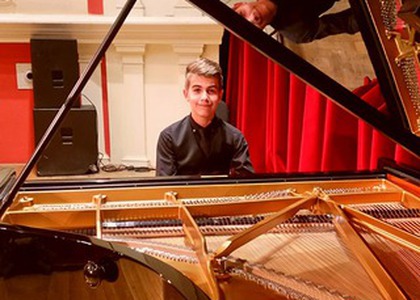 The Tuesday night season. Piano Recital - Dominik Ilisz. From Oradea and Debrecen, to Bucharest
Monday, 10 February 2020 , ora 10.39

Although quite rare, unfortunately, the Tuesday Night Season brings to the public in Bucharest young performers from other cities of the country, performers recommended by a series of remarkable national and international successes.Today he is a student in the 10th grade at the Oradea High School of Arts, but since he was 12 years old,he has also been attending the piano classes of the Faculty of Music in Debrecen, in the class of Prof. Dr.Duffek Mihaly. He has taken part in numerous master classes given by key figures in the art of keyboard such as Horia Maxim - Romania, Elizabeth Sombart - France, Jean-Claude Denervaund - Switzerland, Carmen Daniela Gililov - Germany, Duffek Mihaly and Pless Attila - Hungary.He received diplomas of excellence from Oradea City Hall, Resonance Romania Foundation and Kiwanis Art Oradea.
The list of his professional successes attracts attention and demands respect. We selected a few:
- 1stPrize - "KlavierKlavius" Bonn International Competition (2016)
- 2nd Prize (2016) and 1st Prize (2017) - "Carl Filtsch"International Contest of Instrumental Interpretation " Sibiu
- 1st Prize at Transylvanian International Piano Competition - Brasov (2017)
- The 1st Prize - "Frederic Chopin" International Piano Competition Bacãu (2019)
There are so many compelling reasons why pianist Dominik Ilisz was invited to perform a recital during the Tuesday Night Season, in the current season of the George Enescu Philharmonic in Bucharest.
Tuesday, February 11, 7 pm, Romanian Athenaeum, Small Hall
Tuesday night season
Piano recital Dominik Ilisz
Time schedule
* Ludwig van Beethoven -C minor Sonata, op. 13, "Pathétique Sonata"
* Franz Liszt - La Campanella
* Ludwig van Beethoven - 32 C minor variations
* Frédéric Chopin - Nocturne in B-flat minor, op. 9, no. 1
* Franz Liszt - Sarabande and Chaconne from Handel's Almira
Tickets can be purchased from the Romanian Athenaeum Ticket Office.
Schedule: Tuesday - Friday 12 p.m.-7 p.m. Payment in cash only.
Phone: 021.315.68.75
For bookings go to www.fge.org.ro

Translated by Ioana Ghițã, Universitatea București,
Facultatea de Limbi și Literaturi Strãine, MTTLC, anul II