> [Archived] Events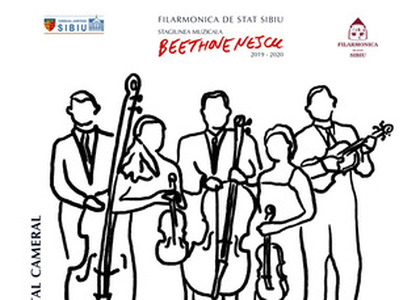 Wiener Kammersymphonie in Beethovenescu Season
Wednesday, 12 February 2020 , ora 13.49

Beethoven masterpieces will be heard in an unique version, specially arranged for a string quintet. Musicians "with instrumental intonation, velvety timbre and unmatched descriptive depth" (Giornale dell'Umbria), members of the Wiener Kammersymphonie will play in an unique concert in Romania, at the invitation of the Sibiu State Philharmonic and the Austrian Cultural Forum in Bucharest. The landmark event during the Beethovenescu Season 2020-2021, the recital will take place on February 22, at 19.00, at Thalia Hall in Sibiu (Strada Cetății 3-5).
Wiener Kammersymphonie proposes two of the most sumptuous works of Ludwig van Beethoven's creation - "Coriolan Overture, opus 62" (composed in 1807) and "Symphony No. 8" (conceived in 1812). The ensemble - exclusively chords - "brings to the public the symphonic greatness of Beethoven. The most remarkable thing about the instruments used is the so-called fifth chord, which gives the sound a sometimes immeasurable depth. The musicians really managed to create the suggestion of a large orchestra, "said Jan- Willem van Ree, artistic director Edesche Concertzaal (Ede, The Netherlands). In the program of the concert in Sibiu, there are two Austrian pieces that will be listened to for the first time in Romania: "The second string quintet" by Johanna Doderer (2008) and "Portrait in three colors", composed in 2012 by Stefan Pelzl, special for Wiener Kammersymphonie.
The Wiener Kammersymphonie ensemble means Sergio Mastro (cello and artistic conduct), Lukas Medlam (violin), Matyas Andras (violin), Nebojsa Bekcic (rape), Damían Posse (double bass) - highly talented musicians, who live and perform in Vienna . Created in 2006 and coming into force on the international classical stage with a series of Mozart concerts in Spain, the quintet addresses a wide repertoire, from 19th-century classics to contemporary compositions, often interpreting works by some (unfairly) forgotten or neglected composers. The members of the Wiener Kammersymphonie claim their preference for the creations of Ludwig van Beethoven and Wolfgang Amadeus Mozart which they approach in original versions throughout Europe (Spain, France, Great Britain, Poland, Holland, Denmark, etc.), but also in South America ( Brazil, Argentina, Chile, Colombia, Peru, Uruguay, Panama, etc.).

Translated by Gabriela Florea, Universitatea București,
Facultatea de Limbi și Literaturi Străine, MTTLC, anul II