> [Archived] Events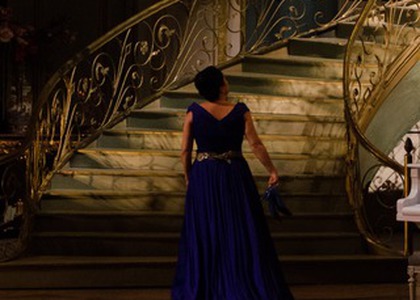 'La Traviata', the story of the most famous courtesan in Paris, on the Bucharest National Opera House stage
Wednesday, 19 February 2020 , ora 10.10

On Thursday, February 20th, starting with 18:30, the Bucharest National Opera House introduces Giuseppe Verdi's `La Traviata`, directed by Paul Curran, who is also in charge with the stage movement. Maestro Ciprian Teodorașcu will be at the conductor's rostrum.
The show brings back to the audience's attention the emotional story of a courtesan that lived in Paris during the first half of the XIX century, under the name Marie Duplessis, and that deeply influenced the existence of artists such as the composer Franz Liszt and the writer Alexandre Dumas - son. The latter, as a posthumous homage, chose her as his muse for the famous novelthe Lady with the Camellias which served as inspiration for Giuseppe Verdi and his opera `La Traviata`, first performed in Bucharest in 1856, a couple of years after the world premiere at the La Fenice Theater in Venice.
Director Paul Curran proposes an unconventional and provocative mise-en-scène that transposes the action from 1700s Paris, as it is in the Opera's libretto. The directorial concept follows the key - details of the story of Traviata, especially the contrast between the apparent conservatism and the tacit promiscuity which offers it dramatic savour.
Director Paul Curran on `La Traviata` on the stage of the National Opera House in Bucharest:" I believe that Verdi wrote a modern play for that era. The theme of the opera was very popular at the time, but it was equally.... dangerous. On another note, the drama consisted of a story that any of us can understand, it is the story of a woman in disgrace. Do you think this story could happen in reality? Of course. Should a woman be placed in such an awful situation because of society? I do not believe that. But that exact aspect makes her so interesting to me and, moreover, we can all find something of ourselves in her, we can find in ourselves something similar to the story of La Traviata"
"Classic and modern with a remarkablescenography. The decors and costumes are impressive from the very first scene through the drawings that offer balance to the stage, imagined in the ambiance of Paris at the beginning of the XX century, with a lot of baroque but with touches of "art nouveau". But the action happens at the end of the `50s. The eclecticism of associating ideas is supported and it appeals" - Costin Popa
Tickets are available at http://tickets.operanb.ro/ and at the Bucharest National Opera House Ticket Office (open from Monday - Sunday between 10:00 - 13:00 and 14:00 - 19:00).

Translated by Irina Ștefan, Universitatea București,
Facultatea de Limbi și Literaturi Străine, MTTLC, anul II