> [Archived] Events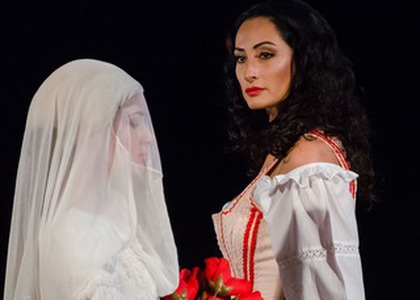 LjubicaVraneș, invited at Carmen performance, on the stage of the Bucharest National Opera House
Monday, 24 February 2020 , ora 12.36

On Sunday, the 23rd of February, 2020, at 6:30 PM, the Bucharest National Opera House will present Carmen, by Georges Bizet, directed by Marina Emandi Tiron. Maestro Vlad Conta will be at the rostrum.
During this performance, the audience will be able to follow mezzo-soprano LjubicaVraneș in the role of Carmen.
Carmen opera is a rare case in the musical theatre world. Whenever talking about the other works, the opinions might be divided. But if we're talking about Carmen, both the musicologists and the public, the elite and the audience from the gallery, the specialists and those unfamiliar with the work, they all agree that this is a masterpiece. Moreover, the composition goes beyond national boundaries. At times, musicologists labeled it as the best opera that had ever been composed in France. But after the introduction of the opera in Russia, Tchaikovsky predicted that in ten years it would become the most popular opera in the world. Philosopher Friedrich Nietzsche proclaimed it as "one of the most authentic masterpieces from the opera literature."
From first to last act, the entire performance is a fight on the arena, at the end of which there are no winners, only those defeated. The continuous state of conflict is maintained by the play of the actors, guided by director Marina Emandi Tiron, to convey the characters' emotions powerfully.
One of the most beloved opera creations ever, Carmen by Georges Bizet, represents today a challenge for both directors and choreographers who put on stage the suite signed by Georges Bizet/RodionȘcedrin. Even the most nonconformist stage-manages, which sometimes bring the setting into the present, cannot avoid the Spanish atmosphere suggested by the music. The folklore-inspired sounding, used by composer Georges Bizet, entails at every stage-manage the presence of some elements that place the setting in Sevilla - a rich in color town, with the noise produced by castanets, and flamenco footsteps. The performance on the stage of the Bucharest National Opera House is built in the same spirit - in warm tones, where the shades of yellow, orange, and red are dominating.
The tickets can be found here: http://tickets.operanb.ro/ and at the Box Office of the Bucharest National Opera House (with the program from Monday - Sunday, between 10:00 AM - 1:00 PM and 2:00 PM - 7:00 PM).

Translated by Cotar Alexandr, Universitatea București,
Facultatea de Limbi și Literaturi Străine, MTTLC, anul I