> [Archived] Events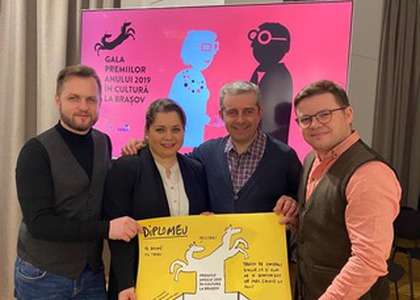 Anatoly, winners of the Concert of the Year section - 2019 Awards of the Year in Culture in Brasov
Monday, 2 March 2020 , ora 10.16

The "Anatoly" vocal quintet of the Brasov Opera is the winner of the Concert of the Year section, within the events of the 2019 Awards in Culture in Brasov, organized by the Corona Cultural Consortium. The award was granted on Tuesday evening, February 25th, 2020, in a Gala hosted by the Multicultural Center at the Transylvania University.
The winners were chosen on the basis of the Brasov audience's online votes and of the grades given by three personalities of contemporary art and cultural management outside Brasov, whose preferences weighed 50% of the final grade. The jury of this edition was formed by Silvia Antigona Rogozea, curator and program director of the National Museum of Contemporary Art, Ciprian Anghel Ștefan, general director of the ASTRA National Museum Complex and president of the National Museum Network in Romania, and Luminița Arvunescu, producer of Musical Romania Radio and the chairwoman of the Union of the Music Critics, Editors and Performers of Romania.
"Last night I was delighted to be the winner of the CONCERT OF THE YEAR section of the Awards of the Year in Culture in Brasov, organized by the Corona Cultural Consortium. An award that honours us and that we see as a recognition of our musical activity for the almost twenty years of uninterrupted activity. Entitled "Flakes of Carols", the concert is both a musical idea of the ANATOLY brand, as well as the work of an entire team without which we would have remained at the stage of simple ideas ... We would like to thank all those involved: the organizers - the City Hall of Brasov, the Brasov Opera House and the ANATOLY Cultural Association, partners - the «Sică Alexandrescu» Theatre, libris.ro and the Honorary College of Brasov,the TRIAJ Orthodox Parish for all the support, as well as the artists invited: Mădălina Bourceanu, Theodora Ciurezu, Anca Preda, the small group of ANATOLY junior and the small ballerinas, to all media partners and last but not least, to our audience "- I confess, at a joyous time like so, the five musicians from Brasov (Andrada Mureșan - alto, Gabriel Baciu - tenor I, Ciprian Cucu - tenor II, Ciprian Țuțu - baritone and Marius Modiga - bass), those who make up the "Anatoly" vocal quintet.

Translated by Drangoi Ioana – Alexandra, Universitatea București,
Facultatea de Limbi și Literaturi Străine, MTTLC, anul I