> [Archived] Events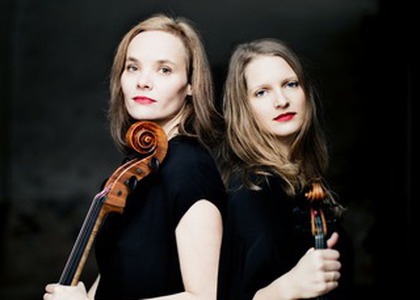 Strings & noise 'quoting Beethoven' - classic instruments, the sounds of the future
Wednesday, 4 March 2020 , ora 11.04

Violins do not only touch sensitive chords. At the border between the classical repertoire and the futuristic musical experiment, the "strings & noise" duo (formed by cellist Maiken Beer and violinist Sophia Goidinger-Koch) presents, during the Bucharest Sound Week, a new music masterclass and an experimental concert (March 6th and 7th), at the invitation of the Austrian Cultural Forum, in partnership with the Full Half Association and the National University of Music Bucharest.

Friday, March 6th, 3PM, National University of Music Bucharest - "Secrets from the score - Forms and notations for stringed instruments" masterclass. In a relaxed, interactive and unique approach in Romania, Austrian musicians Maiken Beer (cello) and Sophia Goidinger-Koch (violin) will discuss with the participants how a musician deciphers, interprets and enriches the score of a contemporary musical work. The two instrumentalists will provide some examples, but they will invite the public to propose works from their own portfolio.

Workshop open to specialists (instrumentalists, composers), but also to contemporary music lovers.

Saturday, March 7th, 8 PM, Switch Lab (Universe Palace, Building A, 5th floor, Ion Brezoianu Street n . 23-25) - "strings & noise" concert, within the "Quoting Beethoven" project, organized by the Austrian Cultural Forum, Goethe- Bucharest Institute, Sound Week and the National University of Music Bucharest, on the occasion of the 250th anniversary of the birth of the "Titan of Bonn". Maiken Beer and Sophia Goidinger-Koch will present contemporary pieces (by Austrian and international composers Leo Riegler, Matthew Shlomowitz, Jennifer Walshe, Bernd Satzinger). Exclusively at the concert in Bucharest, the audience will have the opportunity to listen to two world premiere works, signed by Bernhard Lang and Manuel Zwerger, who unexpectedly reinterpret famous musical themes imagined by Ludwig van Beethoven. The two works are presented in Bucharest with the support of SKE, the Austro Mechana Contemporary Composers Fund.

Translated by Drangoi Ioana – Alexandra, Universitatea București,
Facultatea de Limbi și Literaturi Străine, MTTLC, anul I