> [Archived] Events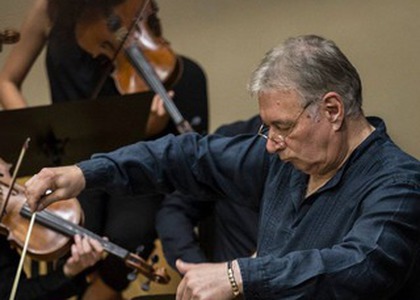 Conductor Mădălin Voicu is coming back at the Pitești Philharmonic
Wednesday, 4 March 2020 , ora 11.10

Thursday, March 5th, starting from 7 PM, the Pitești Philharmonic is playing the first Bach and Mozart symphony concert of the month at the Multifunctional Center. Conductor Mădălin Voicu and violinist Florin Ionescu-Galați will be joining the symphony orchestra of the Pitești Philharmonic. Schedule: Johann Sebastian Bach's Violin Concerto in A minor and Violin Concerto in E major and Wolfgang Amadeus Mozart's Symphony No.35 in D major, Haffner.
Born in 1952, in Bucharest, Mădălin Voicu is the son of famous violinist Ion Voicu. He studied violin at the Ciprian Porumbescu Conservatory in Bucharest and later attended conducting studies in Trier, Mainz, Stuttgart, and London. He conducted the symphony orchestras of the Ploiești, Craiova, and Râmnicu-Vâlcea Philharmonics, the National Radio Orchestra and many others. He was the director of the George Enescu International Festival. He was also a musicology teacher at the Attaturk Music Academy in Izmir (Turkey). Being an honorary member of the French Academy of Arts, Science, and Literature, he played in concerts together with violinist Ion Voicu. He is also the conductor of the "Ion Voicu" chamber orchestra, in Bucharest. He was also the conductor for the symphony orchestra of the Pitești Philharmonic on October 19th 2017.
Son of musician and conductor Ilarion Ionescu-Galați, Florin Ionescu-Galați started to study the violin at 4 years old with his father. Six years later he made his debut as a soloist at the National Radio Orchestra. He graduated the Music Academy in Bucharest, having studied under professor Ștefan Gheorghiu. He is collaborating with all Romanian orchestras. He won numerous competitions, in Switzerland, Italy, Czechoslovakia, and Romania. The violinist performs in famous concert halls around the world, having collaborated with prestigious musicians, such as Horia Andreescu and Iosif Conta. In 1982 he begins his international career, playing with orchestras in the USA, Canada, Swizerland, Greece, Turkey, Austria, and France. He is a soloist in the State Philharmonic in Brașov since 1993. He had also been a soloist in the Pitești Philharmonic concerts in past seasons, last time in the final concert of the June 30th 2016 season.

Translated by Dinu Alina, Universitatea București,
Facultatea de Limbi și Literaturi Străine, MTTLC, anul I