> [Archived] Events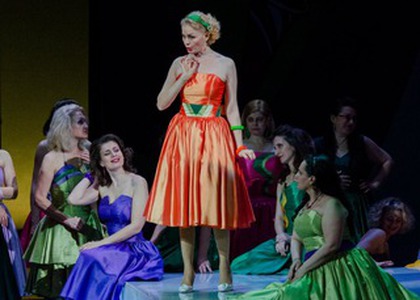 'The Elixir of Love', on Women's Day on the stage of Bucharest National Opera
Friday, 6 March 2020 , ora 9.36

The Bucharest National Opera presentsthe show 'The Elixir of Love" by Gaetano Donizettion Sunday, 8 March , 2020, 6:30 pm. Directed by Marco Gandini, the scenography was conceived by Adriana Urmuzescu, and the lighting design by Virginio Levrio. The orchestra will be conducted by Master Tiberiu Soare.
A typical example of opera buffa, The Elixir of Love is one of the Donizetti's masterpieces, along with Don Pasquale. The score is charming, extremely funny, the farce being both extremely comical and sentimental. Among the magnificent moments of the opera, we can notice, in Act I, Nemorino's aria, "Quanto è bella", then the presentation of Dulcamara ,"Udite, udite" and Nemorino's aria, "Una furtiva lagrima". The current production of The Elixir of Love at the Bucharest National Opera had its premiere on 20 May, 2012.
The director Marco Gandini talks about The Elixir of Love by Gaetano Donizetti:
"Today, in order to stage an opera, as well as in the case of a play, if we talk about works of the past, we have to answer the question whether the subject has any meaning or to what extent it may have any meaning for the contemporary audience. The story and music of the Elixir of Love are in a sense contemporary, because we do not find in them archaic elements, references to a certain historical period. Instead, we resonate with the model of a young teenager in love, with little life experience, who believes in the illusion of a drug able to solve his problems in love. We also understand the theme of the desire for love, different for each of the main characters, the love trio Adina-Nemorino- Belcore. The opera staging respects the relationships between the characters, their dynamics, the relationships of dependence and influence between them, which define the development of the story in a timeless space, in which the dynamics of action, joy, disappointment, hope, play can be better shaped, without the specific constraints of a historical time or space.
Nemorino and Adina are the perfect pair, as Donizetti claims, if not directly, through the libretto, at least through the dynamics of the music at the end of Act I."
Tickets are available at http://tickets.operanb.ro/ and at the ticket office of the Bucharest National Opera (Monday through Sunday, between 10 am- 1 pm and 2 pm - 7 pm).

Translated by Elena-Carmen Bobocescu, Universitatea București,
Facultatea de Limbi și Literaturi Străine, MTTLC, anul I