> [Archived] Events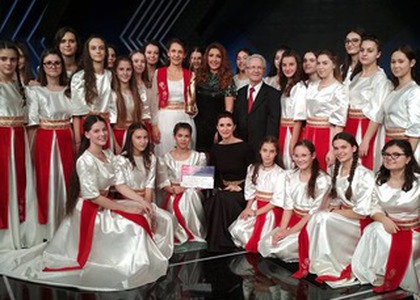 An Exceptional Anniversary Concert of the "Symbol" Children's and Youth Choir at the Romanian Athenaeum. Jean Lupu - 80 years of life, 60 years of conducting
Monday, 9 March 2020 , ora 10.57

On Saturday, 7th of March 2020, at the Romanian Athenaeum, the "Symbol" Children's and Youth Choir, together with their guests, celebrate the choir's founding father, deacon-teacher Jean Lupu, through an exceptional anniversary concert "Jean Lupu - 80 years of life, 60 years of conducting"
For this event, the "Symbol" Choir led by university lecturer Dr.LuminițaGuțanuStoian, principal conductor of the choir, and maestro Jean Lupu, together with his guests, prepared a select repertoire, meant to touch the soul, to raise awareness, but also to bring the cheerful energy specific to Romanian folklore. The concert program includes works by Brahms, Delibes, CiprianPorumbescu, Joseph Strauss, as well as works of national folklore. The audience will be able to listen to singers Maria Cazacu, AndreeaPîrvulescu, AndreeaMihalache, Corina Gatu and Daniela Greere, pianists Cristina Gheorge, Diana Negreanu, Magdalena Bulibașa and Bianca Fodor and percussionist AndradaConeac.
The "Symbol" Choir will be joined by special guests, who will share with the public the great joy of the moment, in a sensitive, special program, which includes works for violin, piano, together with vocal soloists: soprano AndreeaBlidariu, soloist of the "Nae Leonard" National Opera and Operetta Theater in Galați, SiminaCroitoru, winner of national and international violin competitions, TiberiuBranga, member of the Radio Chamber Orchestra, Maria-Diana Petrache, winner of national and international piano competitions, Natalia PanciucColotelo, main instrumentalist in the"George Enescu" Philharmonic Orchestra, Dr. OlguțaLupu, FCMPM dean of the National University of Music Bucharest, Andrei Petrache, laureate of national and international composition competitions.
The moment will be honored by the participation of the representatives of the Presidency of Romania, the Romanian Patriarchate, the Union of Composers and Musicologists of Romania, the National Choral Association of Romania, the Olt County Council, the Union of Composers of the Republic of Moldova, as well as representatives of the Belgian-Romanian Alliance in Brussels, with whom "Symbol" has a long and beautiful collaboration of 20 years.
The Anniversary Concert on the 7th of March will start at 6:30 pm, being preceded by the launch event of the most recent book published by Jean Lupu - Borne pecale - which will take place at the Romanian Athenaeum at 5:00 pm.
***
The "Symbol" Choir of the Romanian Patriarchate has been active under the high patronage of the Romanian Patriarchate since its establishment in 1990. In its 30 years of existence, the "Symbol" Children's and Youth Choir, led by deacon-professor Jean Lupu and by the university lecturer Dr.LuminițaGuțanuStoian, has achieved an impressive record: concerts around the world, a rich discography, and also more than 20 national and international prizes of great value.

Translated by Alina-Nicoleta Duminică, Universitatea București,
Facultatea de Limbi și Literaturi Străine, MTTLC, anul II