> [Archived] Events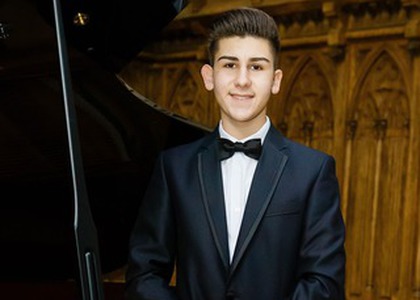 The Tuesday night season. Piano recital - Soon, from Glasgow to Bucharest, Alexandru Ștefan Plăcintă
Wednesday, 11 March 2020 , ora 11.17

In 2019, Alexandru Ștefan Plăcintă is accepted as a future student for the 2020-2021 academic year at the Royal Conservatoire of Scotland in Glasgow. The young pianist was born in Iași in 2001, he started studying the piano at the age of 7 at the "Octav Băncilă" National Art College in his hometown, where he is currently a student in the 12th grade and studying under the guidance of prof. Roxana Ota.
The (almost) 19 year old pianist has an impressive CV. He has obtained important prizes at national and international competitions: International Piano Competition "Ville de Gagny", Paris - Grand Prix "Jeunes Talents"; International "Rosario Marciano" Piano Competition, Vienna - III Prize; First prize at the Malta International Music Competition, organized by the Central Academy of Arts, Malta; Transylvanian Piano Competition, Brașov - III Prize; International Music Competitions for Youth "Dinu Lipatti" Rome - I FINALIST Award; 1st Prize and Special Prize at Constanta International Competition - Festival for Young Pianists; "Frederic Chopin" Trophy - International Competition "Frederic Chopin" Bacău. Alexandru is a double-winner of the "Piano Artis" Trophy in Iași and is a winner of the 1st Prize at the International Piano Competition, "Golden Lira" from 2016 to 2019, receiving in this competition, in the years 2017 and 2018, and the Prize " CIPRIAN PORUMBESCU ".
He attended masterclasses with: Eugene Alcalay - professor at Azusa Pacific University California; Pavlos Yallourakis - France, professor at the Ecole Normale de Musique "Alfred Cortot" in Paris; Florian Mitrea - Professor at the Royal Academy of Music London; Daniel Goiți - "Gheorghe Dima" Music Academy Cluj-Napoca; Aurelia Visovan - Hochschule fur Musik Nurnberg, Germany; Andreas Henkel - Dresden, Germany; Larisa Jar - Republic of Moldova; Stefano Miceli - Professor at Adelphi University Boston and New York.
As a soloist, he made his debut at the age of 11 with the orchestra of the National College of Art "Octav Băncilă", he sang with the orchestra of the Botosani Philharmonic, of the "Mihail Jora" Bacău Philharmonic and of the Opera and Ballet Theater "Oleg Danovski" Constanta, following in May to hold a concert with the "Ion Dumitrescu" Philharmonic Orchestra from Râmnicu Vâlcea.
Alexandru Ștefan Plăcintă is the first guest of the Season on Tuesday evening. However, we are ready to follow her promising artistic career in the coming years.
Tuesday, March 10, 7 pm, Romanian Athenaeum, Small Hall
Tuesday night season

Alexandru Plăcintă - piano
Time schedule

• Ludwig van Beethoven - Sonata in F minor, Op. 57, No. 23, "Apassionata"
• Frédéric Chopin - Scherzo No. 2, Op. 31
• Sergei Rachmaninoff - Moments Musicaux Op. 16, No. 3 and No. 4
• George Enescu - Toccata and Sarabande from Suite No.2 for Piano, Op. 10

Tickets can be purchased from the Romanian Athenaeum Ticket Office.
Schedule: Tuesday - Friday 12:00 - 19:00. Payment in cash only.
Phone: 021.315.68.75
For bookings go to www.fge.org.ro

Translated by Oprea Ana Maria Adriana, Universitatea București,
Facultatea de Limbi și Literaturi Străine, MTTLC, anul I