> [Archived] Events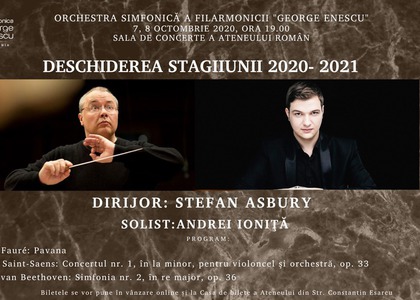 General rehearsal with the public, Wednesday morning, in the company of the 'George Enescu' Philharmonic
Wednesday, 7 October 2020 , ora 13.38

The "George Enescu" Philharmonic offers the public the opportunity to watch the general rehearsal on Wednesday, October 7th, 2020, from 10 AM, conducted by the English conductor Stefan Asbury, in the company of the orchestra. As a soloist, the international cellist Andrei Ioniță will appear.
The Philharmonic Orchestra proposes a program composed of the following works: Pavana by Gabriel Fauré, Concert no. 1, in A minor, for cello and orchestra, op. 33 by Camille Saint-Saëns and Symphony no. 2, in D major, op. 36 by Ludwig van Beethoven.
Due to the restrictions imposed by the COVID-19 pandemic, around 200 seats will be put up for sale. Public access is allowed until 9.45 AM.

Translated by Drangoi Ioana – Alexandra,
Universitatea din București, Facultatea de Limbi și Literaturi Străine, MTTLC, an II
Corrected by Silvia Petrescu