> [Archived] Events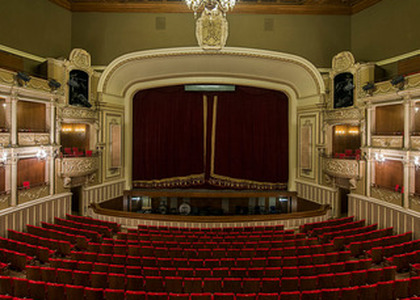 Bucharest National Opera suspends the reopening of the 2020-2021 Season
Thursday, 8 October 2020 , ora 13.40

According to The Bucharest City Committee's decision for Emergencies nr. 19 from 06.10.2020 the performances scheduled for the opening of the 2010-2021 Season of the Bucharest National Opera is suspended.
Considering the incidence cumulated of the cases in the last 14 days, respectively 1,86/1000 inhabitants in Bucharest city, starting from 07.10.2020 the closing of the performances institutions measure was ordered.
Thus, the performances of "Tosca" by Giacomo Puccini, "The Ballet gala" and "La Traviata" by Giusepe Verdi scheduled on 8, 10, respectively 11 october 2020 is suspended.
Regarding the refunding of the amount paid of the tickets bought online, the reimbursement will be realised automatically in the account from which the purchase was made, within 28 days.
We ask the people who purchased the tickets from the Box Office to come in person with the tickets in physical format for the refund of the consideration starting from 12 october 2020. We mention that the deadline for coming to the Box Office regarding the refund of the money is within 10 working days starting from 12.10.2020, thus the reimbursement won't be possible. The program of the Box Office is from Monday to Friday, between 11:00-19:00.
We are sorry for the current situation, the artists of the Bucharest National Opera being excited and nervous with the intention to return to the Big Room of performances of opening of the new 2020-2021 Season with titles so loved by the public. However, with hope, the first lyrical stage of the country conforms strictly to all the rules and measures imposed by the authorities regarding the prevention and combat of the effects of the COVID-19 pandemic.
Bucharest National Opera will notify at a future date the recheduling of the opening of the 2020-2021 Season taking into account the decisions of the Bucharest City Committee for emergencies regarding the progress of the pandemic across the Bucharest City caused by the new coronavirus SARS-CoV-2.
Thank you for understanding!

Translated by Țîru Mălina Roxana,
Universitatea din București, Facultatea de Limbi și Literaturi Străine, MTTLC, an II
Corrected by Silvia Petrescu