> [Archived] Events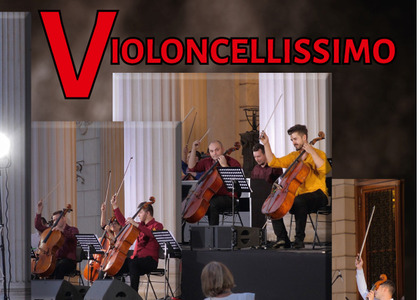 The Classic to the Third Power Tour presented by Marin Cazacu and Violoncellissimo, arrives at Sibiu, at the Brukenthal Musical Resort
Thursday, 8 October 2020 , ora 13.56

Esteemed public of the Resort, the State Philharmonic of Sibiu, partnering with the Procontemporania Foundation and the Serafim Antropov Friends of Music Foundation presents the "Classic to the Third Power National Tour - Violoncellissimo" at Sibiu, at the Brukenthal Musical Resort.
The tour returns in October on the Romanian concert stages, proposing a sonorous incursion in the cello's world through a spectacular and diverse repertory, from classic to contemporary, after the outdoor preview from September, from Râmnicu Vâlcea. The cellist and professor Marin Cazacu and his disciples, in short Violoncellissimo, arrive at Sibiu on the 9th of October 2020, at 7pm, on the Philharmonic'sThalia Hall stage.
In the Classic to the Third Power National Tour - Violoncellissimo 2020 can be seen and heard a spectacular advocacy for the unthinkable possibilities of the cello's musical expression, virtuosity associated, through an incursion program not only in the history of classical music, but of more genres, in a juncture full of colour, savour and joy of living. We will enjoy a magical night, in which we'll listen the Romanian folkloric suite in Piazzola'sLibertango or Haendel's Passacaglia.
Important: to continue enjoy music, we remind you that the access into theThalia Hall is made exclusively by the ticket office. In order to avoid crowding, the access is made with 30 minutes before the beginning of the concert. Please use the sanitizer put at your disposal and wear the mask correctly throughout the entire musical performance. Please keep the minimum 1,5m distance between you and other people. More information regarding your safety can be found in the performance's schedule.

Translated by Codescu Paula Silvia,
Universitatea din București, Facultatea de Limbi și Literaturi Străine, MTTLC, an I
Corrected by Silvia Petrescu