> [Archived] Events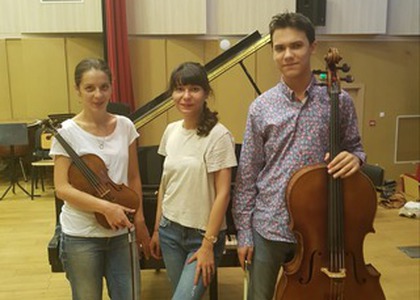 2020-2021 Tuesday evening season
Tuesday, 13 October 2020 , ora 15.53

The "George Enescu" Philharmonic announces the first recital of the2020-2021 Tuesday evening Season. The frequency of chamber music evenings is reducedto two per month until December. The recitals will be recorded and broadcast on Tuesday, at 7 P.M., on the YouTube channel of the Philharmonic and on the Facebook of the "George Enescu" Philharmonic and that of Radio Romania Musical. As we have accustomed our audience in the 12 seasons thus far, the guests will be young musicians with international activity and recognition.

Tuesday evening season (Small Hall)
Tuesday, October 13th, 7 P.M.
RALUCA STRATULAT - violin
VALENTIN SIMION - cello
ELIZA PUCHIANU - piano

Program: Johannes Brahms - Trio no. 1, in B major, op. 8, Claude Debussy - Trio no. 1, in G major
Co-producer: Radio Romania Musical

Violinist Raluca Stratulat is a graduate of the Faculty of Interpretation, Master's, Doctorate and Post-MIDAS Courses of the National University of Music in Bucharest. She has won a number of national and international awards and has given concerts and recitals in Romania, the Netherlands, Finland, Greece, Austria, Germany, Hungary, Belgium, Italy, Turkey and the USA. She performed under the baton of conductors Jin Wang, Jozsef Horvath, Horia Andreescu, Adrian Morar and performed numerous first auditions of contemporary music of various songs belonging to Romanian and foreign composers. She is one of the initiators of The Chamber Music Project, she frequently performs with her own students and, at present, she is a professor and head of the chamber music department of the "George Enescu" National College of Music in Bucharest. As teacher,she has taught several violin, chamber music and stage emotion managementmaster classes.

Cellist Valentin Dimitrie Simion was born in Bucharest on July 7th, 2001. He is currently a student at the National University of Music in Bucharest in the class of maestro Marin Cazacu. He has won over 50 first prizes in national cello and chamber music competitions but also in international competitions among the latter Plovdiv International Competition, Bulgaria / 2017, "The Muse" International Competition in Athens, Greece / 2018, The North International Competition, Stockholm / 2019, "Jan Vychytil" International Competition in Prague / 2020. He also participated in several cello master class internships with Romanian and foreign teachers: Marin Cazacu, Răzvan Suma, Alexandra Guțu, Denis Severin (Switzerland ), Lászlo Fenyö (Hungary), Valentin Răduțiu (Germany), Vashti Hunter (Great Britain).

Eliza Puchianuis an active pianist, who performs as a soloist and as a collaborating pianist. She holds a master's degree with the Magna cum Laude distinction from the Boston Conservatory at Berklee (USA, 2018) and a bachelor's degree with Honours First Class from the Royal Irish Academy of Music (Ireland, 2015), specializing in piano performance at both institutions. She is the winner of the Harvard Cultural Collaborative (USA, 2018)full scholarship, together with her chamber music group Trio Brave, and the2014 Yamaha Scholarship for pianists. Her concerts and recitals took her on stages in Paris, Amsterdam, Warsaw, Boston, The Hague, Bielsko Biala, Venice, Vienna, Vilnius, Bratislava, Padua, Ulm, Traunstein and Las Palmas. Her activity also extends in the field of accompaniment, collaborating with Edinburgh Festival 2011, Wexford Opera Festival 2013, Opera Briefs 2013 and 2014, George Enescu International Competition 2014, Jeunesses Musicales 2015, Sighișoara Academy in 2016, 2017, 2018 and the STEP Project from Boston Symphony Orchestra in 2017 and 2018. Eliza Puchianu started her pedagogical activity in 2012, and the schools where she established herself as a piano teacher are Leesson Park School of Music, Ireland (2012-2014), Director of the music department at Alphabet House Creative Learning Center (2014-2016), Crina Mardare Music Experience (2015-2016), Steinert & Sons Piano Academy, Boston (2017-2018). She is currently the Music Director of the Alphabet House Creative Learning Center and an accompanying professor at the George Enescu National College of Music.

Translated by Drangoi Ioana – Alexandra,
University of Bucharest, Faculty of Foreign Languages and Literatures, MTTLC, year II
Corrected by Silvia Petrescu