> [Archived] Events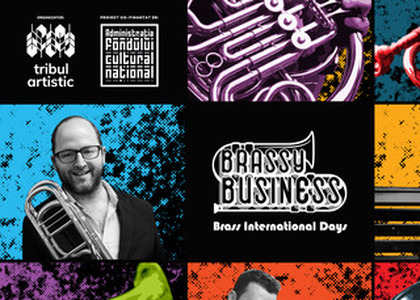 It's a time of 'difficult festivals': from offline back to online: Brassy Business concerts held behind closed doors and without an audience will be broadcast ONLINE
Wednesday, 14 October 2020 , ora 14.33

Brassy Business introduces an all-too-rare type of cultural expression to the city's cultural landscape, one which addresses the public's need for access to new cultural experiences, paving the way towards opportunities to showcase instruments with a unique personality: it is the only festival focusing on brass instruments and their particular music. The first edition of the festival presents a series of free masterclasses for young Romanian performers and three concerts by artists with vast orchestral experience.

One thing is certain for the organisers: the uncertainty accompanying any project implemented during the pandemic. This ever-present unease brings with it a series of changes and difficult decisions. Romania has recently been added to Germany's "blacklist", being declared a red zone because of the high risk of infection with COVID-19. This decision has led to a series of changes in the program initially proposed by the festival organisers, but the support from the international artists involved offered the necessary push to carry the event forward.

The new format for the masterclasses and two of the concerts in this edition brings to Timișoara five artists with vast international experience, active in important orchestras or ensembles throughout Europe and across the ocean: Flaviu Petrescu (trumpet), the festival's artistic director, is among the most celebrated Romanian trumpet players of his generation; Jose Reál Cintero (trumpet) holds the position of co-principal at the Beethoven Orchester Bonn; Timothy Page (French horn) holds the position as principal horn at the Theater an der Elbe in Hamburg; André Melo (trombone) collaborates with renowned European orchestras, such as the WDR Symphony Orchestra and the Mahler Chamber Orchestra, having been awarded the 2018 Opus Klassik Award for the recording of Mahler's Symphony No. 3; Tomer Maschkowski (bass trombone) has held the title of Yamaha Artist since 2018, being a frequent guest player in brass ensembles at the Berliner Philarmoniker or at the Lucerne Festival.

Another difficult decision taken by the Artistic Tribewas to go back online: the three concerts planned as public events in spaces such as the National Opera House Timișoara, the Roman Catholic Church of the Sacred Heart of Jesus in Elisabetin and Casa Tineretului will all be broadcast online on the Brassy Business and Artistic Tribe Facebook pages.

Translated by Fliter Gabriela-Cristina,
University of Bucharest, Faculty of Foreign Languages and Literatures, MTTLC, year II
Corrected by Silvia Petrescu