> [Archived] Events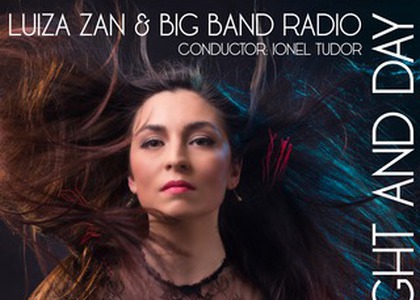 Jazz Night and Day ... at Casa Radio Publishing House - with Luiza Zan and the Radio Big Band, conducted by Ionel Tudor
Tuesday, 20 October 2020 , ora 14.56

NIGHT AND DAY - an album title and, at the same time, a brief but comprehensive description of the attention that Casa Radio Publishing House pays to jazz music and its famous Romanian artists
At the beginning of October, the "Jazz forum" collection of Casa Radio Publishing House was enriched with a second CD made by the soloist Luiza Zan and theRadio Big Band, led by the well-known conductor Ionel Tudor. The album includes a collection of electrifying songs, but also of great sensitivity, both international hits and Luiza Zan's own creations, songs that highlight the exceptional vocal qualities of the soloist, but also the high professional attire of the artists who make up the Radio Big Band, in a live recording from February 2019, from the Radio Hall. At the same time, the album is a standard through the masterful way in which the recordings were mixed and mastered by sound engineer Călin Gibescu.

I stated it on previous occasions as well-please allow me to foresee a vaulted arch over time, a line of value of Romanian jazz vocal art, starting with Aura Urziceanu, continued with dignity by the late Anca Parghel, currently reaching Luiza Zan. Exceptional vocal qualities, a generous native endowment doubled by the science of singing, the unwavering will to self-transcend, in a continuous form - these are considerations that undoubtedly justify the artist's position in the mentioned lineage. In conclusion, Luiza Zan- deservedly appreciated in contemporaneity as the no. 1 voice of local jazz, imposed itself with certainty through her prominent voice, well-calibrated, of extensive scope and exceptional flexibility, valued for the unanimously recognized interpretive mastery and improvisational creativity.(Florian Moșu 'Lungu - album presentation author)

The Radio Big Band has been collaborating for many years with the exceptional jazz singer Luiza Zan, the concerts held together enjoying great success each time, always raising the audience to its feetin applause for minutes at the end of the performances.

Luiza Zan is an artist who chooses her repertoire with great care, while ensuring a crescendo in the development of the program. She manages to convey her artistic message to both those who listen to her and to us, the musicians on the same stage. The positive state she induces creates a propitious atmosphere for a jazz recital. The pleasure of singing together is felt, and success is guaranteed! (Ionel Tudor - conductor of the Radio Big Band).

Translated by Drangoi Ioana – Alexandra,
University of Bucharest, Faculty of Foreign Languages and Literatures, MTTLC, year II
Corrected by Silvia Petrescu