> [Archived] Events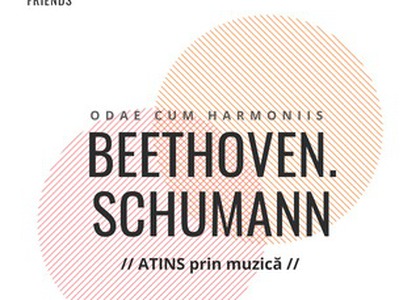 Răzvan Popovici (SoNoRo) and Valentin Serban in a new concert with the audience from the "Florescu-Fernandez & Friends" Chamber Season
Wednesday, 21 October 2020 , ora 14.40

Four artists and two independent initiatives to promote chamber music in Romania meet up in a new concert, in Sibiu: "TOUCHED through art. Beethoven. Schumann"
Valentin Șerban (violin player, the only qualified Romanian in the semifinal of the "George Enescu" Contest 2020, violin section), Răzvan Popovici (violin player, the director of the SoNoRo Festival), Makcim Fernandez Samodaiev (cello player) and Monica Florescu (pianist), co-founders of the "Florescu-Fernandez & Friends" Chamber Season meet you on Sunday, the 25th of October, 2020, at 5 PM, at Sala Oglinzilor at Forumul German Sibiu.
Free admission, under reservation via e-mail to pr@florescu-fernandez.com. The concert will be broadcast on the "Florescu-Fernandez & Friends" Facebook page.
Makcim Fernandez Samodaiev & Monica Florescu: "The concert which we propose to our audience from Sibiu this month is under the sign of friendship and collaboration so that the chamber music will become a phenomenon just as valued as it is in other European countries. The SoNoRo Festival is a reference point for us, which is why we are very happy to have the very director of this initiative, violistRăzvan Popovici,as a guest, together with one of the "Young Masters" SoNoRo grant holders and alumni, violin player Valentin Șerban. Our wish for Sibiu is for it to become a reference center for chamber music in Romania and we are glad that for four years, since we have started our own chamber Season, we noticed how to curdle a loyal audience who fills Sala Oglinzilor from Forumul German month after month."
SCHEDULE
Ludwig van Beethoven - Quartet with piano in E-flat Major, op. 16
Robert Schumann - Quartet with piano in E-flat Major, op. 44
Ottokar Novacek - Pertuum mobile, Op. 5, no. 4 *
*Rafaela Fernandez Samodaiev, violin
WHO ARE THE ARTISTS?
VALENTIN ȘERBAN is a concert master of the "Romanian Youth Orchestra", a member of the "Les Dissonances" orchestra in Paris as of 2018 and the only Romanian violin player who is qualified in the semifinal of the "George Enescu" International Contest 2020. Passionate about chamber music, he held concerts in prestigious halls in Europe, with Mihaela Martin, Frans Helmerson, Erik Schumann, Andrei Ioniță, Alina Pogotskina, Alissa Margulis, Alexander Buzlov, Konstantin Heidrich, Claudio Bohorquez, Julia Hamos, Viviane Hagner, Diana Ketler, Răzvan Popovici, Aimo Pagin, Miki Aoki, Vladimir Mendelssohn, Philippe Graffin, Marius Ungureanu.
RĂZVAN POPOVICI is the initiator and executive director of the Chiemgauer Musikfruhling Festival in Traunstein (Germany) which celebrates 17years of existencethis year and of the "Pèlerinages" series of chamber music concerts in München. He is, at the same time, an initiator and executive director of the SoNoRo Chamber Music International Festival in Bucharest which he has turned into a European cultural and famous platform. This includes the SoNoRo Festival (15 years), the SoNoRo Interferences educational project (14 years), SoNoRo Arezzo (10 years), SoNoRo Conac (8 years), SoNoRo Sofia (2 years) and SoNoRo Musikland (2 years).
MAKCIM FERNANDEZ SAMODAIEV was born in the former USSR, in Volgograd and spent his childhood in Havana, Cuba. He is a Royal Conservatory of Music graduate in Anvers, Belgium, with a "soloist-recitalist" degree. He held concerts in countries like Belgium, Holland, Spain, France, Switzerland, Germany, Mexico, Cuba, The United States and Romania, and since 2015, he is a soloist of the State Philarmonic in Sibiu.
MONICA FLORESCU,pianist, is a poly-layered musician with a concert activity of 20 years as a soloist together with symphonic orchestras and in chamber recitals in Romania and abroad: Belgium, Mexico, Holland, France, Germany, Italy, Sweden, England, Switzerland. Throughout her career, she collaborated with various famous aritst, among whom Thomas Kakuschka, Alexandre Rabinovitch-Barakovsky, Alexander Ivashkin și Renaud Capuçon.
"FLORESCU-FERNANDEZ & FRIENDS"CHAMBER SEASON
The passion for music is at the core of the "Florescu - Fernandez & Friends" season, an independent and unique project in Sibiu, with "full house" concerts every month. The Season began in 2015 on cello player Makcim Fernandez Samodaiev (Cuba) and pianist Monica Florescu's (Romania) initiative, who live in Sibiu after they have studied, lived and performed for some years in different countries in Europe and Mexico. Because Sibiu is enjoying an expert and classical music enthusiastic crowd, the "Florescu - Fernandez & Friends" chamber season proposes a series of monthly concerts where famous musicians from Romania, and from abroadare invited, as well as the South-Korean violin player, Edwin Kim, pianist Ana Kavalerova, violist Răzvan Popovici and others. The concerts of the season have an educational dimension, each performed work being introduced by short explanations and historical references. Starting January 2020, the "Florescu - Fernandez & Friends" chamber seasonarrives in Bucharest, too.
The concert is part of the "Odae cum harmoniis" series, a project created in partnership with Forumul German Sibiu, with the help of the Romanian Government, through the Department for Interethnic Relations .
Mote informations on the concert page // ATINS prin muzică. Beethoven. Schumann //.
CLOSE TO THE MUSIC, FAR AWAY FROM THE VIRUS
Out of care for the audience and the artists, thepreventive measuresto avoid the spread of the Coronavirus will be followed by inforcing the 1.5 distance between the chairs, temperature measurement, hand sanitizing and wearing a protective mask.
THE MUSIC OF THE FUTURE
The "Florescu - Fernandez & Friends" Chamber Season is an independent project and it needs support to continue. To keep the admission free inthe long run, the audience is invited to contribute with a donation on PayPal (https://www.paypal.me/florescufernandez) or Patreon (https://www.patreon.com/florescufernandez).

Translated by Handrea Alexandra,
University of Bucharest, Faculty of Foreign Languages and Literatures, MTTLC, year I
Corrected by Silvia Petrescu