> [Archived] Events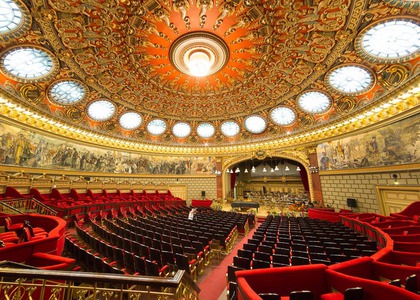 Bach online, on the "George Enescu" Philharmonic season
Thursday, 22 October 2020 , ora 14.15

Alongside the concerts held live on Thursdays evenings on the Romanian Athenaeum's scene the "George Enescu" Philharmonic continues to broadcast recordings during the online season. Thus, on Wednesday, the 21st of October starting with 7.00 pm, an artist group of the "George Enescu" Philharmonic Choir will perform selections from Johann Sebastian Bach songs which were recorded in June and July 2020 in the Romanian Athenaeum Concert Hall.
The "Bach online" project designed by RazvanGeorgescu and staged by a musicians group of the "George Enescu" Philharmonc is "a pleasure in a disoriented and confused world", says the composer Dan Dediu. "I appreciate the enthusiasm with which this project came to life and I hope that it will win over a lot of supporters, spectators and disseminators. In a world where the battle for the public attention takes place through increasingly easier, more accessible and sometimes unforgivably comfortable programs, the Bach online project aims for depth and reflection. Will we be able to get over the custom of surfing the internet and focus on listen Bach's music? It's a challenge that this project is launching. Bach's music certainly remains out bread and butter", Dan Dediu emphasizes.
"Everyone present at this concert, soloists or instrumentalists that were invited, felt as if it's their duty to offer an encouragement message through the healing force of the Leipzig Cantor's beautiful music. The program includes moments of deep philosophical reflection that were meant to build up a consolation, hope and peace of mind atmosphere in an uncertain and apprehensive time", concludes Razvan Georgescu, one of the project's creators.
The "George Enescu" Philharmonic online season, the 21st of October 2020, 7.00 pm
Bach online
Members of the "George Enescu" Philharmonic Choir
Director: Iosif Ion Prunner
Guests:
Ion BogdanȘtefănescu - flute
Ioana Balașa - flute
Adrian Petrescu - oboe
Rafael Butaru - violin
Gabriel Gheorghe - violin
EugenBogdanPopa - cello
SimonaSandulescu - organ
RalucaEnea - harpsichord
soloists:
Cristina Vasilache - soprano
ȘtefaniaBoloș - alto
Georgiana Dumitru - alto
RăzvanGeorgescu - bass
---------------
Raluca Enea, Neluța Niculae, Elena Gheorghe - soprano
Simona Oarfă, Sorina Popescu - altists
Florian Costea, Paul Ghica, Ionuț Popescu - tenors
Cristian Băbuță, Rudolf Cocriș, Marius Nine - bass
Time schedule:
JOHANN SEBASTIAN BACH
• Choral from Cantata BWV 68
• Area from the BMW 36 Coral Cantata "Das ist der Vaterswille" from the BWV 73 Cantata
• Area "Ach, bleibedoch, meinliebstesLeben" from Cantata BWV 11
• Cor "Nimm, wassdeinist, und gehehin" from Cantata BWV 144
• Duet "Wireilenmitschwachen, dochemsigenSchritten" from Cantata BWV 78
• Choir "Leitemich in deinerWahrheit" from Cantata BWV 150
• Recitative and aria "Der Friedeseimitdir - Welt ade! Ich bin deinmüde" from Cantata BWV 158
• Chorus "Dein Alter seiwiedeineJugend" from Cantata BWV 71
• Area "Schafekönnensicherweiden" from Cantata BWV 208
• Choral "IchhabDicheinenAugenblick" from Cantata BWV 103
• Chorus "Es war einwunderlicher Krieg" from Cantata BWV 4
• Chorus "Jesus bleibetmeineFreude" from Cantata BWV 147
Presented by: University professor Dr. Dan Dediu
Project creators: Simona Oarfă Răzvan Georgescu
Audio-video technician: Cătălin Duminică
The recordings from June-July 2020 can be listened on the online channels of the "George Enescu" Philharmonic: website (https://www.fge.org.ro/ ), on the Facebook page (https://www.facebook.com/filarmonica.george.enescu/) and on the YouTube channel (https://bit.ly/2wMctlw ).
Access these online channels will be free for all music lovers.

Translated by Alma Teodora Miron,
University of Bucharest, Faculty of Foreign Languages and Literatures, MTTLC, year I
Corrected by Silvia Petrescu