> [Archived] Events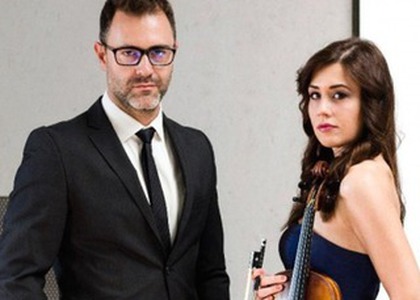 Intermeridian online
Wednesday, 28 October 2020 , ora 14.38

The violonist Diana Jipa and the pianist Ștefan Doniga will initiate, starting on Wednesday, October 28th, the cultural project "INTERMERIDIAN ONLINE", dedicated to the modern and contemporary Romanian artistic creation and its opening to all categories of public. The project, carried out with the support of the Romanian Cultural Institute, proposes the online broadcast, every Wednesday evening, of a series of six episodes including chamber recitals shot inside a museum or art collection in Romania, focusing on collections of art and Romanian civilization. The musical moments will alternate with guided presentations of the cultural spaces in which each event takes place and will be published on the Facebook pages of Radio Romania Music, the Romanian Cultural Institute, as well as on social media accounts of the two artists.
The musical repertoire presented will include musical compositions written by some of the most important contemporary Romanian composers: Adrian lorgulescu, Ulpiu Vlad, Felicia Donceanu, Carmen Petra Basacopol, Roman Vlad, Remus Georgescu, Vlad-Răzvan Baciu.
"Given that, in recent times, both participation in classical public concerts and the possibility of visiting cultural sights have been placed under serious limitations, our idea of bringing together the meridians of culture, arts and science in a series of cultural documentaries broadcast online is intended to be an accessible but also extremely attractive alternative to these activities so necessary for public life and education ", said pianist Ștefan Doniga, the initiator of this cultural project.
The schedule of online broadcasts will be as follows:
Wednesday, October 28, 2020, 8:00 p.m. - Museum of Transylvanian Life, Kálnoky Castle, Micloșoara, Covasna County;
Wednesday, November 4, 2020, 8 p.m - Ethnographic Museum of Transylvania, Cluj;
Wednesday, November 11, 2020, 8 p.m - Petru Botezatu Monumental Painting and Art Collection (Zalău, Arad, Deva);
Wednesday, November 18, 2020, 8 p.m - Constanța Museum of Modern Art (includes NicolaeGrigorescu Museum and Ion Jalea Museum);
Wednesday, November 25, 2020, 8 p.m - Nicolae Sofianu Contemporary Fine Arts Collection (RâmnicuVâlcea);
Tuesday, December 1, 2020, 8 p.m - George Enescu National Museum, Bucharest

Translated by Gruia Alexandra,
University of Bucharest, Faculty of Foreign Languages and Literatures, MTTLC, year I
Corrected by Silvia Petrescu