> [Archived] Events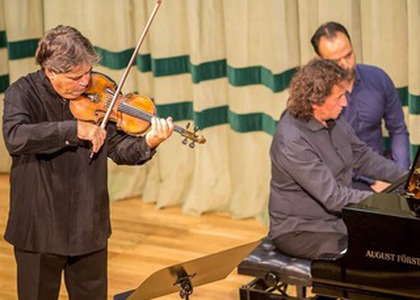 Enescu's Violin at the Pitești Philharmonic
Tuesday, 3 November 2020 , ora 15.45

The Pitești Philharmonic is organizing on Friday, November 6th, at 19.00 o'clock, at the Multifunctional Center, the chamber concert Enescu's Violin, performed by the violinist Gabriel Croitoru and the pianist HoriaMihail, following all the regulations for preventing the spread of the novel coronavirus. The concert is part of the national extraordinary tour that the two remarkable artists are staging in a number of cities around the country, the Pitești Philharmonic being a cultural partner during this year's event, as well. The programme consists of The complete sonatas for violin and piano by Ludwig van Beethoven: Sonata no. 1 in D major for Violin and Piano, Sonata no. 5 in F major for Violin and Piano, the Spring Sonata, and Sonata no. 9 in A major for Violin and Piano, Kreutzer.
Having graduated from the National University of Music in Bucharest, Gabriel Croitoru has a soloist track record consisting of over a thousand concerts with philharmonics from Romania, and also from abroad, where he was accompanied by famous orchestras such as the London Royal Philharmonic, the Monte Carlo Symphony and the Lyon Symphony. Praised for his technique by Yehudi Menuhin himself, Gabriel Croitoru has been performing since 2008 using the "Guarneri delGesu" violin, which belonged to George Enescu, and which has been made available and located in the patrimony of the "George Enescu" National Museum.
Horia Mihail is one of the best contemporary pianists from Romania, with national and international awards, concerts and recitals performed on stages in both our country and abroad. He has also recorded in radio and television studios in: Romania, Belgium, England, Denmark, Hungary and the United States. Pianist HoriaMihail has delighted his audience with projects such as: "The Travelling Piano", "Duel of the Violins" and "The Three Divas". During the last years, the musician has had recitals and concerts in Berlin, Prague, Munich, in China, Italy, Bulgaria, Denmark and Germany.
The two artists have been part of past seasons of the Pitești Philharmonic, both in recitals, as well as with the symphonic orchestra.
Before entering the concert hall, the people will have their temperature measured, and access in the hall is allowed only with a mask, which the audience must wear at all times during the concert. For concerts of the current seasons (until the end of the year), the audience will not be able to sit in the seats marked on their membership passes, and may only sit down following the order of their arrival, on the seats marked available in the hall.

Translated by Teliban Cătălina-Diana,
University of Bucharest, Faculty of Foreign Languages and Letters, MTTLC, Year II
Corrected by Silvia Petrescu