> [Archived] Events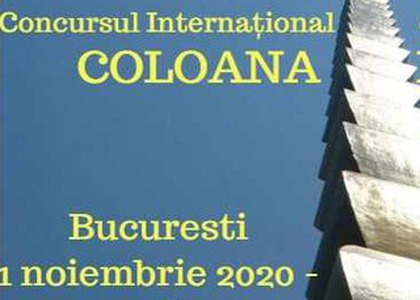 A new competition for young composers – a tribute to the sculptor Constantin Brâncuși
Tuesday, 3 November 2020 , ora 15.50

The Pro Valores Association is holding the first edition of the International Composing Contest "Infinity Column", a tribute to the most important Romanian sculptor - Constantin Brâncuși, the genius from Hobița who contributed decisively to the renewal of visual language and overview in contemporary sculpture, and whose 145th birthday is celebrated in 2021.
The special feature of the competition lies in the fact that, when composing the pieces for the contest, the composers will have to be inspired by one of Constantin Brâncuși's works, thus achieving a syncretic relationship over time between fine arts and the art of sounds.
The selection of young music creators up to the age of 35 (by December 31st, 2020) will be held online.
The music sheets in .pdf format and the documents required for registration can be sent until March 15th 2021, to the e-mail address: concursulcoloanainfinitului@gmail.com <concursulcoloanainfinitului@gmail.com
The jury is made up of outstanding personalities of contemporary music: Prof. Dr. Dan Dediu from the National University of Music Bucharest, Prof. Dr. Ghenadie Ciobanu from the Academy of Music, Theatre and Fine Artsof Chișinău, Prof. Dr. Viorel Munteanu from the "George Enescu" National University of Arts from Iași, Prof. Dr. Adrian Pop from the "Gheorghe Dima" Music Academyfrom Cluj, and Dr. Diana Gheorghiu, composer and coordinator of the Creative Resistance Program of the ICon Arts Academy and Festival.
This contest will become a real launching pad for young creators: the winning works will be performed during the following festivals: the International Week of New Music Festival in Bucharest,21st edition (May 23-30, 2021), New Music Days Festival in Chișinău, 30th edition (June 2021) and the ICon Arts Festival, 19th edition (July 2021).

Translated by Zofotă Andreea,
University of Bucharest, Faculty of Foreign Languages and Literatures, MTTLC, year I
Corrected by Silvia Petrescu