> [Archived] Events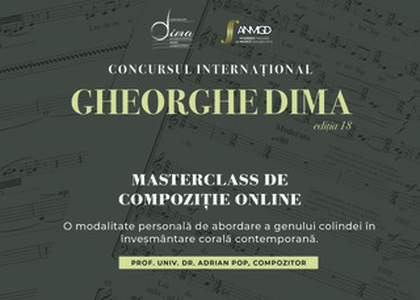 "Gheorge Dima" chose his winners
Wednesday, 4 November 2020 , ora 15.02

"Gheorghe Dima" Music Academyorganizes the 18th edition of the "Gheorghe Dima" International Competition, one of the most prestigious contests dedicated to young musicians.
Following the success from 2018, this year'sedition included a new section, namely composition. Therefore, 28 young people up to 36 years old, from 16 countries, signed up; their participation involved composing a piece for a mixed a capella choir, for 4 to 8 voices, lasting 3 to 4 minutes, on a text decided by the candidate, in one of the following languages: Romanian, English, French, German, Italian, Spanish or Latin.
On Sunday, the 1st of November 2020, the winners were announced:
The 1st prize (1000 euros): Gerson De Sousa Batista, Portugal for Quarantine!
The 2nd prize (800 euros): Rolli Cesare, Italy for Vanitas
The 3rd prize (600 euros): Anthony Mondon, France for Metaphors
The jury was represented by professors and composers from prestigious universities:
Adrian Pop, composer, Professor, PhD,"Gheorghe Dima" Music Academy from Cluj-Napoca, head of the jury;
Ivan Fedele, composer, lecturer, AccademiaNazionale di Santa Cecilia (Rome, Italy);
Bruno Mantovani, composer and conductor, headmaster of Conservatoire National Supérieurde Musique et de Danse de Paris (2010-2019);
Dan Dediu, composer, Professor, PhD, National University of Music Bucharest;
Cristian Bence-Muk, composer, Associate Professor, PhD, head of the Composition and Conducting Department of the"Gheorghe Dima" Music Academy from Cluj-Napoca.
Moreover, an important event will take place on the 6th of November, 10 a.m., when the eminent composer from Cluj, Adrian Pop, head of the jury, is going to host an online artistry course for all thecandidates entered in the Competition, as well as for the young artists interested in "A personal modality of approaching the Romanian carol under the contemporary choral appearance". The login information is: meeting ID: 814 8032 0870, password: 557935.

Translated by Dumitrescu Mihaela,
University of Bucharest, Faculty of Foreign Languages and Literatures, MTTLC, year I
Corrected by Silvia Petrescu