> [Archived] Events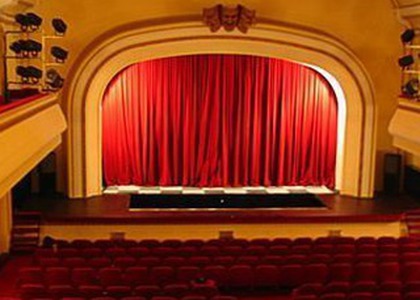 'La Traviata', online on Sunday
Thursday, 5 November 2020 , ora 16.03

Sunday, on the 8th of November 2020, from 6:30 PM, the Brașov Opera House is transmitting online, within the "Opera, at your home" series, representative moments from Giuseppe Verdi's masterpiece, "La Traviata". The event can be watched for free not only on our YouTube channel, but also on our Facebook Official Page.
Regarded today as the most successful and one of the most played works in the world, 'La Traviata' had a long way to go since its premiere in 1853, when it was considered a huge failure. Giuseppe Verdi composed this work based on 'Camille: The Lady of the Camellias' , the novel published in 1848 by Alexandre Dumas II. The young Dumas wrote this autobiographical book inspired by his experiences with Marie Duplessis, the most famous courtesan in the France of his time, with whom he had a romantic affair. And, just like Violetta from 'La Traviata' she dies at only twenty-three years old.
The story of Violetta Valéry has been impressing people for over a century and a half, thanks to the noble idea it has been transmitting: self-sacrifice. The heroine became the victim of the society she was living in, accepting, out of love for Alfredo Germont, a compromise that hastened her death. Dumas II himself wrote about this special woman and her gesture: "If she had not made this sacrifice, it would not have been worth writing about her." Verdian music, within a pure romantic context, equally expresses passion, beauty, drama, elegance and a profound humanity.
Distribution: Ana-Maria Donose - Violetta Valéry, Mihai Irimia - Alfredo Germont, Valentin Marele - Giorgio Germont, Carmen Topciu - Flora Bervoix, Claudiu Bugnar - Gastone, Alexandru Aghenie - Baron Duphol, Paul Tomescu - Marquis d'Obigny, Ștefan Schuller - Dr. Grenvil, Sonia Hazarian - Annina, Dan Ionescu - The Gardener, Adrian Stănilă - The Housekeeper, with the participation of the Orchestra, Choir and Ballet of the Brașov Opera House. At the conducting desk will stand master Traian Ichim. Choir conductor: Dragoș Cohal. The artistic direction of the performance is signed by Dimitrie Tăbăcaru. Scenography: Rodica Garștea. Choreography: Nermina Damian. Assistant director: Valentina Mărgăraș. Stage direction: Silvia Papadopoulus.
Event held with the support of Brașov City Hall.

Translated by Lica Alexandra,
University of Bucharest, Faculty of Foreign Languages and Literatures, MTTLC, year I
Corrected by Silvia Petrescu