> [Archived] Events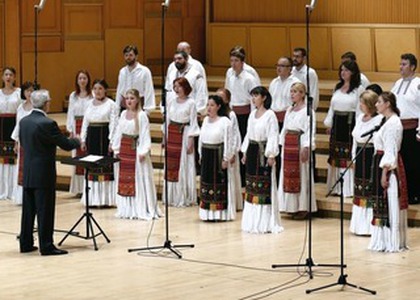 PRELUDE - 48 years of activity
Sunday, 8 November 2020 , ora 13.11

The band's first concert took place on November 1, 1972 on the stage of the Students' Culture House in Bucharest. The founding members had been selected from the University Choir, conducted at that time by Voicu Enăchescu. They were joined by a group of students from the Conservatory, thus constituting the beginning nucleus of the "Prelude".
The "PRELUDE" Chamber Choir is part of the artistic formations of the "Romanian Youth" National Art Center.
With numerous international presences, many concerts in the country and an impressive collection of recordings dedicated to the Orthodox religious repertoire, the "Prelude" Chamber Choir founded and conducted by Voicu Enăchescu is an undisputed artistic authority, representative of the national and international cultural space.
From its appearance until now, the band has traveled an ascending path, which has strengthened with each concert, year after year, the prestige of the choir.
Always prone, passing from the status of amateur choir to that of professional formation, "Prelude" makes a special contribution to the transmission of the artistic act among the music-loving public in Romania and abroad, standing out for its interpretive mastery through freshness and, at the same time, through its maturity. The secret lies, of course, in the talent and native musicality of the choristers, doubled by in-depth musical studies, but, without a doubt, it must also be sought in the conductor's musicality, refinement and special artistic sense.
The repertoire of the "Prelude" Chamber Choir is vast, comprising over 400 works of pre-classical, classical and romantic music, Christmas carols and religious songs, Romanian music and songs from folk music, works of contemporary literature, vocal-symphonic works. It should be noted that all these pieces are interpreted in their original language.
"An idea imagined, built with care and with an exceptional talent by the conductor Voicu Enăchescu. Voicu, meaning the man with whom my youth and my faith in Romanian values ​​are identified." Nicolae Dan Fruntelată
Marcel Corneloup, president of "A Coeur Joie International", said after listening to a "Prelude" Choir concert: "Every time I listen to you, I think perfection exists. What beauty!"
As a recognition of the special artistic activity, the conductor Voicu Enăchescu was decorated with the Order for "Cultural Merit" , counterpart to Commander degree, for the promotion of culture.
The concert in honor of the 48 years of activity will take place as soon as the situation allows, given the restrictions imposed by the pandemic period we are going through.

Translated by Oprea Ana Maria Adriana,
University of Bucharest, Faculty of Foreign Languages and Literatures, MTTLC, year II
Corrected by Silvia Petrescu