> [Archived] Events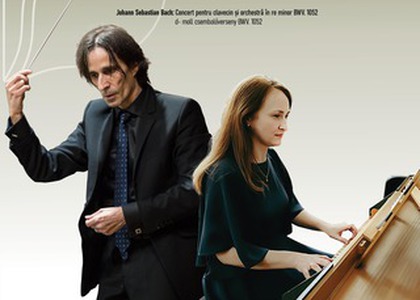 The pianist Monica Florescu soloist in a harpsichord concert at The Satu Mare Philharmonic
Sunday, 8 November 2020 , ora 13.14

The pianist Monica Florescu is the soloist of the evening in a symphonic concert of harpsichord, alongside the "DinuLipatti" State Philharmonic Orchestra, led by the conductor Stefan Novak. The concert takes place on Thursday, the 5th of November, 6:30pm, in the Philharmonic Hall of Satu Mare and it's broadcasted LIVE on the institution's Facebook and YouTube pages.
The concert program includes the Serenade "Gran Partita" KV 361 by Wolfgang Amadeus Mozart and Concert forharpsichord and orchestra in re minor BWV. 1052 by Johann Sebastian Bach.
Monica Florescu: "It's a joy for me to be able to prepare a harpsichord concert, because it's something really rare in Romania. I'm grateful to the conductor Stefan Novak and to the «DinuLipatti» Philharmonic fromSatu Mare for coming to me with this proposal. The harpsichord is not present in my current musical activity, but I'm very fond of it, and for a few years, since I've got back to Romania and established myself at Sibiu, I've been lucky enough to get hold of aharpsichord and experiment at will at my house. I wish that Bach's music, whose architecture finds itself in extreme harmony with the human being, to bring us the lucidity and well-being in these uncertain times, to be like a band aid for the ones who need it, to emanate confidence and devotedness, bringing us together in order to be stronger and confident in these times."

Monica Florescu, pianist
Born in Bucharest, the pianist Monica Florescuhas an ample trajectory in the musical interpretation domain, known as a concerting pianist, but also as a chamber musician, giving concerts all around the world. She had her debut at 8 years old on the Romanian Athenaeum stage as a laureate of multiple national contests. Alumnus of two Music Universities (from Bucharest, Anvers and Belgium), she professed throughout the years in many countries, such as Belgium, Romania and Mexico.
In 2002, alongside the violoncellistMakcim Fernandez Samodaiev, she founds"Spirale Piano Trio", a band of chamber music, which has an intensive activity on an international level, with concerts in Belgium, France, The Netherlands, Germany, Romania, Mexico, Spain, Sweden, Switzerland and England.
Monica Florescu is a constant presence in some concert halls, such as "Palais des Beaux Arts" and "Flagey" in Bruxelles, "De Bijloke" Gent and "De Singel" Anvers in Belgium, CNA Mexico City (Centro Nacional de lasArtes), Teatro Esperanza Iris, Tabasco and TeatroJ.Clavijero from Veracruz, Mexico.
She's a laureate of some international competitions, such as The "Lorry Wallfish" International Contest andthe "George Enescu" Prizefor the best interpretation of a G. Enescu piece, as well as the "Remember Enescu" Prize in the "MihailJora" Contest. She's a finalist of the "Maria Canals 55th International Competition" Contest in Barcelona.Between 2012-2014she's invited to Mexico as a member of the international juries for the piano and chamber music contests.
She makes recordings for Radio Romania (Bucharest), hold live concerts for TVT Tabasco Television Villahermosa (Mexico) and records a CD at Aliud Records, Skarster Music Investments Holland with the "Spirale Piano Trio" band, which includes works of F.Mendelssohn-Bartholdy, D. Shostakovich, J. Van der Roost.
Since 2015 she's a member of the Sibiu State Philharmonic, as an instrumentalist soloist. Also in 2015 she initiates the "Florescu-Fernandez and Friends"Chamber Season, alongside the violoncellist Makcim Fernandez Samodaiev, at Sibiu.

Stefan Novak, conductor
Born on the 25th of April 1973 in Pancota, the Arad county. He started studying music at the age of 6 with an amateur violinist. He continued at the Art profile General School from Arad and the Musical High School from Cluj-Napoca.
He has a bachelor's degree from two faculties of the "Gh. Dima" Musical Academy from Cluj-Napoca, in the year 1997 from the Faculty of Musical Interpretation, the Viola section, and in the year 2003 from the Theoretical Faculty, the Orchestra Conducting section, and in 2006 he finalizes his master studies at the Stylistic Conducting section.
In all this time he took conducting classes in country and abroad. After a year spent at the Targu-Mures State Philharmonic as a viola instrumentalist, since the autumn of 1996 becomes a member of the Satu Mare Symphonic Orchestra as an instrumentalist artist and since 2004-2005 as a conductor.

Translated by Codescu Paula-Silvia,
University of Bucharest, Faculty of Foreign Languages and Literatures, MTTLC, year I
Corrected by Silvia Petrescu