> [Archived] Events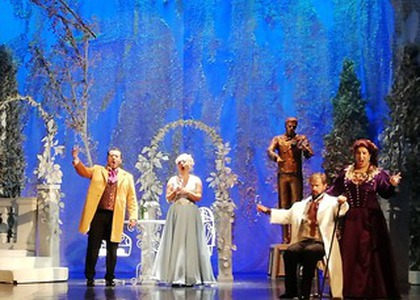 The operetta 'Wiener Blut' by J. Strauss - son, on Sunday, in your houses
Tuesday, 10 November 2020 , ora 15.28

On Sunday, the 15th of November 2020, from 6.30 pm, the Brasov Opera will broadcast on the official Youtube channel and on the official Facebook page representative moments from the operetta "Wiener Blut" by Johann Strauss - son in an adapted version. The operetta libretto was written by Victor Léon and Leo Stein. The premiere took place on October 26, 1899, at the Carltheater in Vienna, but Johann Strauss was no longer alive to see this last masterpiece of his. The popularity of the waltz "Wiener Blunt" op. 354 was so high, that it was chosen as the title of this musical work. The operetta provides an opportunity to meet the Viennese atmosphere of the late 19th century. "I kept the thread of the story and sought to achieve a balance between lyrical and humorous moments, both specific to an operetta; but, above all, I focused on outlining the main characters, trying to create various typologies, pleasant characters and moments. Sparkling moments, in the spirit of the score written by Johann Strauss. "We sought, together with the scenographerRodicaGarștea, to create a refined environment that music imposes ", confesses the director AndaTabacaru.
In the distribution of the show we will find the artists: Gabriella - Anda Pop, Franzi - NicoletaChirilă, Peppi - Andromeda Nemeș, Rosa - Cristina Roșu, Eduard - MihaiIrimia, Josef - MugurelOancea, Vercingetorix - Marian Rește, Kagler - Ștefan Schuller, Count Bitovsky - Dan Ionescu.
The Orchestra, Choir and Ballet of the Brașov Opera give their competition. Master MirceaHoliartoc will be at the conducting desk. The artistic direction of the show is signed by AndaTabacaru. Scenography: RodicaGarștea. Choreography: AlexandruFotescu. Stage movement: AncaBranea. Choir conductor: DragoșCohal. Assistant directors: Silvia Papadopoulos and Nicoleta Chirilă. Stage director: Silvia Papadopoulos.
Event held with the support of Brașov City Hall.

Translated by Alma Teodora Miron,
University of Bucharest, Faculty of Foreign Languages and Literatures, MTTLC, year I
Corrected by Silvia Petrescu