> [Archived] Events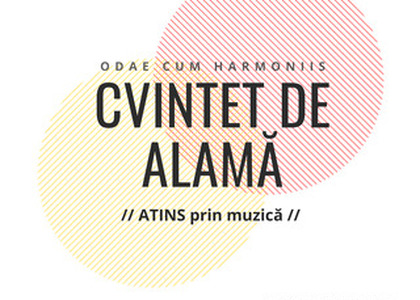 New sounds and a brass quintet in the "Florescu-Fernandez & Friends" Chamber Season
Wednesday, 11 November 2020 , ora 15.20

New sounds will be heard in a novel concert of the Tromba Felix band, one of the few brass quintets in the country, which will be broadcast live from the Mirror Hall of the German Forum in Sibiu, on the 15th of November, from 5PM, on the Chamber Season's Facebook Page "Florescu-Fernandez & Friends".
Makcim Fernandez Samodaiev, co-founder of the "Florescu-Fernandez & Friends" Chamber Season: "We are inviting the public to listen to an unusual concert, which shows us new references in the field of classical music and through which we get the chance to evade our familiar world. The recitals that are exclusively focused on wind instruments are a novelty for our season, but also a rarity for the chamber public from all over the country. We are very happy to accept the musicians' proposal from the Sibiu State Philharmonic, via trombonist Ion Palagniuc, and to offer this concert in direct transmission."
The concert will be performed by the musicians: Sándor Medve (trumpet), Dumitru Trocin (trumpet), Alin Ștefan Roman (horn), Ion Palagniuc (trombone), Gheorghe Simion Ianța (tuba) and will go through a variety of works from the baroque period up to the classical one (Samuel Scheidt, Johann Pachelbel, Tomaso Albioni, Johann S. Bach, Georg F. Handel, Wolfgang A. Mozart, Ludvig van Beethoven), and will be completed with short entertainment songs (Julius Fucik, Beatles, Lew Pollack, Sonny Kompanek, Henry Mancini, Astor Piazzolla, Richard Rogers, Luis Armstrong, Luckyth Roberts).
The recital is part of the "Odae cum harmoniis" series, a project realized in partnership with the Sibiu German Forum, with the support of the Romanian Government, through the Interethnic Relations Department.
The passion for music represents the basis of the "Florescu - Fernandez & Friends" Chamber Season, an independent and unique project in Sibiu, with "full-house" concerts every month. The season began in 2015 at the initiative of cellist Makcim Fernandes Samodaiev's (Cuba) and pianist Monica Florescu (Romania), who have settled down in Sibiu after many years of studying, living and performing in different countries from Europe and Mexico. As Sibiu has a connoisseur and passionate public of classical music, the "Florescu - Fernandez & Friends" Chamber Season proposes a series of monthly concerts, where known musicians from Romania and from abroad are invited. The season's concerts also have an educational dimension, as each work that is performed is introduced by short explanations and historical marks. From January 2020, the "Florescu - Fernandez & Friends" Chamber Season comes to Bucharest inclusively.

Translated by Lica Alexandra,
University of Bucharest, Faculty of Foreign Languages and Literatures, MTTLC, year I
Corrected by Silvia Petrescu