> [Archived] Events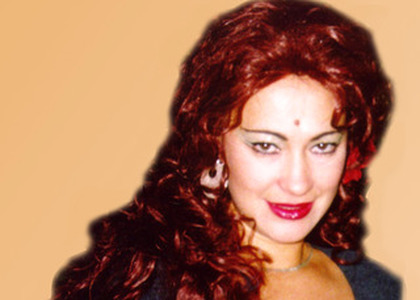 A life on stage with the mezzo-soprano Gabriela Hazarian
Wednesday, 18 November 2020 , ora 15.06

Sunday, November 23rd, 2020, starting 6:30 pm, Brasov Opera House live-streams online on their own YouTube channel and on their Facebook official page, the anniversary "Music, life and emotion" Concert, dedicated to themezzo-soprano Gabriela Hazarian, a first chair of the Brasov Opera House, at her resignation. It is, of course, a touching moment, Gabriela Hazarian's farewell from the stage, but a joyous moment as well, as she is celebrating not less than 33 years spent at Brasov Opera House!
During this special evening, you will be able to listen to lyric sheets renowned for their popularity and musical beauty, from the plays: "Don Giovanni" - W.A. Mozart, "La Cenerentola" - G. Rossini, "Rigoletto" - G. Verdi, "Don Pasquale" - G. Donizetti, the operettas "The Merry Widow" by Fr. Lehár, "Countess Maritza" - E. Kálmán or "The Bird Seller" by C. Zeller and the musical "My Fair Lady" - Fr. Loewe. The mezzo-soprano will delight us with special moments from the opera "Carmen" by G. Bizet, the operettas "Ball im Savoy" by P. Abraham and "The Riviera Girl" by E. Kalman.
In this amazing show, the following colleagues and friends of Gabriela Hazarian will play: Mădălina Bourceanu, Maria Catrina, Liviu Iftene, Nicoleta Chirilă, Corina Klein, Lorand Cristian, Adrian Mărcan, Valentin Marele, Valentina Mărgăraș, Anda Pop, Cristina Roșu, Marian Rește, Lăcrămioara Schuller, Dan Popescu. The Orchestra, the Choir, and the Ballet of Brasov Opera House are competing against each other. In the role of the conductor will be the master Traian Ichim. The artistic direction of this gala is provided by Anda Tabacaru. Scenography: Rodica Garștea. Choreography: Ramona Mezei. Choir conductor: Dragoș-Mihai Cohal. Hosted by: Simona Manole. Stage director: Marilena Aldea.

Translated by Tufă Nina,
University of Bucharest, Faculty of Foreign Languages and Literatures, MTTLC, year I
Corrected by Silvia Petrescu