> [Archived] Events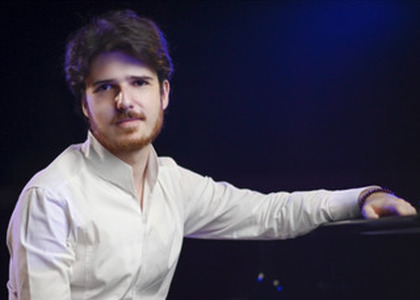 Tuesday night season. Chamber recital From Paris and Amsterdam, in Bucharest. Pianist Dimitri Malignan
Monday, 23 November 2020 , ora 14.20

On Tuesday, the 24th of November, from 7.00 pm, on the youtube channel of the Philharmonic, on the Facebook of the "George Enescu" Philharmonic and on that of Radio Romania Muzical, the fourth concert without audience from the Season of Tuesday evening 2020- 2021 will be brodcasted.
"George Enescu" Philharmonic
Tuesday evening season (Small Hall)
Tuesday, the 24th of November, 7.00 pm Piano recital
Schedule
Johann Sebastian Bach
Adagio in G major, BWV 968
Symphony no. 11, in G minor, BWV 797
Fantasy and Fugue in C minor, BWV 906 (unfinished)
Symphony no. 2, in C minor, BWV 788
Prelude, Fugue and Allegro in E flat major, BWV 998
Ludwig van Beethoven
Sonata no. 12, in E flat major, op. 26
Sergei Rachmaninoff
Prelude in B flat minor, op. 32, no. 2
Prelude in and minor, op. 32, no. 10
Prelude in A Minor, op. 32, no. 8
Prelude in G major, op. 32, no. 5
Prelude in C minor, op. 23, no. 7
Concert performed in partnership with Radio Romania Musical

Dimitri Malignan, winner at only 19 years old of the prestigious Prix Cortot 2017, impresses with his maturity, musical intelligence and his great sensitivity. Born in Paris in an original Romanian family, nephew of the composer Henry Mălineanu, Dimitri begins to study the piano at the age of 5 with the pianist Nicolas Horvath. His early talent is recognized by the renowned French pianist and teacher Jean-Paul Sevilla. The valuable guidance of this mentor will be decisive in his musical formation and evolution. In 2011, he was admitted to the class of Ludmila Berlinskaya, a disciple of pianist Sviatoslav Richter, at the Ecole Normale de Musique "A. Cortot" in Paris. From year to year, thanks to a deep and thorough study with his teacher, Dimitri obtains all the diplomas awarded by the Ecole Normale de Musique in Paris with the highest distinctions, culminating in 2017 with the concert diploma and the famous Prix Cortot, being until today today the youngest laureate.
He is perfecting at the conservatories in The Hague and Amsterdam with Naum Grubert, pianist and teacher with great experience of transmission at the level of piano excellence. Together with this great master, Dimitri continues the search for a perfect style and sound.
Winner of over 20 competitions, Dimitri performs on the big stages: Salle Cortot (Paris), Saint Martin-In-The-Fields (London), Konzerthaus (Berlin), Merkin Concert Hall (New-York), Romanian Athenaeum and the Royal Palace (Bucharest), the Timisoara, Craiova and Chisinau Philharmonic, the Tchaikovsky Museum in Klin (Russia), as well as in the Netherlands, Denmark, Monaco, Italy and Croatia, and is invited to prestigious festivals such as Flâneries Musicales de Reims, Nohant Festival Chopin, Nuits du Piano-Paris, Nuits du Piano d'Erbalunga and Trasimeno Music Festival (Italy).
In April 2018 he recorded his first CD Schumann Prokofiev (Passavant label).
Dimitri was guided in master classes by famous pianists such as Angela Hewitt, Andras Schiff, Jean-Philippe Collard, Brigitte Bouttinon-Dumas, Abdel Rahman El Bacha or Boris Giltburg.
The young pianist is invited for the second time to perform during the Season on Tuesday night.

Translated by Alma Teodora Miron,
University of Bucharest, Faculty of Foreign Languages and Literatures, MTTLC, year I
Corrected by Silvia Petrescu