> [Archived] Events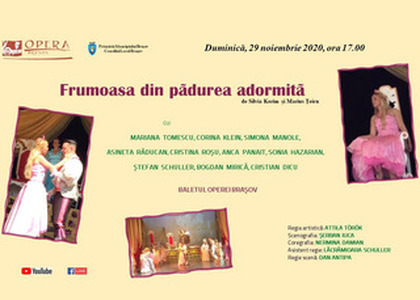 "Sleeping Beauty", online show for children
Wednesday, 25 November 2020 , ora 9.59

On Sunday, November 29th, 2020, from 5 P.M., the Brașov Opera House invites the little ones in front of the screens, of course, with the consent of their parents or grandparents, to watch a very beloved story: "Sleeping Beauty", on the music composed by Marius Țeicu and the screenplay written by Silvia Kerim, after the fairy tale of the same name by Charles Perrault. The show will be broadcast online, both on our Facebook page and on the official YouTube channel.
In the cast, we find the artists of the Brașov Opera:
Berta the Stork - Mariana Tomescu
Bibi the Frog - Corina Klein
The Empress - Simona Manole
The Emperor - Ștefan Schuller
The Good Fairy - Asineta Răducan
The Bad Fairy - Cristina Roșu
The Princess - Anca Panait
The Prince - Bogdan Mirică
The Nanny - Sonia Hazarian
Bob the Butler - Cristian Dicu
The Brașov Opera House ballet has its contest.
The artistic direction of the show belongs to Attila Török. Scenography: Șerban Iuca. Choreography: Nermina Damian. Choreography assistant: Ramona Mezei. Stage director: Dan Antipa.

Translated by Drangoi Ioana – Alexandra,
University of Bucharest, Faculty of Foreign Languages and Literatures, MTTLC, year II
Corrected by Silvia Petrescu